North Korea Sets Up Task Force to Keep The Interview Out
A despot's motion to keep smugglers, pirates, and Hollywood escapades at bay.
By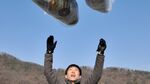 Park Sang Hak, the son of a North Korean spy, once worked in the country's propaganda office, but defected to South Korea and founded the organization Fighters for a Free North Korea. Come New Year, Park and his supporters plan to deliver more than 100,000 copies of  The Interview into North Korea, via stealthy balloon drop. But the  North Korean regime is determined to keep out pirated copies of this latest chapter in the Rogen/Franco bromance and an unlikely tinderbox in the culture wars between the free world and Kim Jong Un. According to the Chosun Ilbo, a major South Korean daily newspaper, a three-star general has set up a task force to keep the movie from being smuggled into the North.