North Korea Sets Up Task Force to Keep The Interview Out
A despot's motion to keep smugglers, pirates, and Hollywood escapades at bay.
By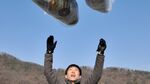 Park Sang Hak, the son of a North Korean spy, once worked in the country's propaganda office, but defected to South Korea and founded the organization Fighters for a Free North Korea. Come New Year, Park and his supporters plan to deliver more than 100,000 copies of  The Interview into North Korea, via stealthy balloon drop. But the  North Korean regime is determined to keep out pirated copies of this latest chapter in the Rogen/Franco bromance and an unlikely tinderbox in the culture wars between the free world and Kim Jong Un. According to the Chosun Ilbo, a major South Korean daily newspaper, a three-star general has set up a task force to keep the movie from being smuggled into the North.
A source told the newspaper that the general spoke about the mission with border guards, police officers, security officials, and the poor squadron responsible for cracking down on foreign media. The source said the regime also has begun monitoring smugglers and visiting homes to check computers and DVD players for contraband copies.  
The fact is, The Interview is already circulating in China, and streaming on Weibo, with Chinese subtitles. The Chosun Ilbo notes—rather poetically—that some viewers have seemed bored by it, while "a few suspected a marketing stunt by Sony for a movie that would otherwise have sunk like a stone."
Whatever the reception, North Korea has no interest in dissemination. It has shown itself to be wise to Park's airdrops in the past; it opened fire on his balloons in October.
But the defector seems resolved, not to mention inspired. According to the Independent, he said, "North Korea's absolute leadership will be crumble if the idolization of leader Kim breaks down."