Housing in 2015: 'We Are in a Slow March Back to Normal'
By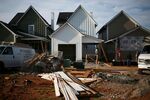 The thump of air hammers and the whine of mini-dozers will be heard a bit more in 2015. Housing construction should continue to climb back in the new year, although it probably won't get all the way back to its long-run average. "We are in a slow march back to normal," David Crowe, chief economist with the National Association of Home Builders, said in a December statement.
"Before this downturn, anything below 1 million housing starts in a year was considered almost a housing depression," Stuart Miller, chief executive at Lennar, said in a September conference call with analysts. "This recovery is just now getting us back to that level of starts." The homebuilders' group projects housing starts to grow from just under 1 million in 2014 to about 1.2 million in 2015.
Housing isn't staging a more vigorous recovery because for every plus, there's a minus. Mortgage rates are low, but lending standards remain extremely tough. Rising home prices are gladdening the hearts of homeowners, but they're making it hard for first-time buyers to break into the market. The economy is getting stronger, which helps buyers, but it also raises the cost of labor and materials. And if the economy gets much stronger, market forces and Federal Reserve actions could start to drive up mortgage rates.
These charts show how deep of a hole the housing market fell into, and how slowly it's climbing out. The first shows sales of existing homes, which are the bulk of all home sales per year.

The second chart shows sales of new homes. They fell even more sharply in the downturn. Buyers figured it was cheaper to buy a home from a distressed and motivated resident—or a bank—than to buy from a builder.


The housing crunch has been toughest for first-time buyers. The National Association of Realtors reported in October that only 33 percent of buyers of primary residences were first-timers, the lowest figure since 1987. The long-term average is about 40 percent. One problem: Affordability for first-time buyers, which improved after the huge price plunge, has been eroding.

Overall, though, housing is slowly headed in the right direction. Executives of D.R. Horton, the nation's biggest homebuilder, told analysts in November that they are optimistic enough about growth to reinvest in the business, rather than pay out profits to shareholders in dividends. "We would never rule out buybacks at some point in the future," CEO David Auld said. "But, right now, we still see great opportunities in our business."
Before it's here, it's on the Bloomberg Terminal.
LEARN MORE