Birinyi Sees 'Protracted, Durable' Bull Market in S&P 500
Joseph Ciolli and Vonnie Quinn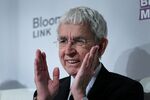 U.S. stocks will extend their advance into a seventh year, according to Laszlo Birinyi, whose favorable stock calls since 2009 have mostly come true.
The Standard and Poor's 500 Index is in a "protracted, durable bull market," the president and founder of money-management and research firm Birinyi Associates Inc. said in a radio interview on "The Bloomberg Advantage" with Vonnie Quinn. The former Salomon Brothers Inc. analyst predicted in February that the benchmark gauge would reach 1,900 in the second quarter and said in July it would hit 2,100 by year end.
U.S. shares are poised to complete the sixth year of a rally that has added about $15 trillion to share values as corporate profits doubled and the Federal Reserve held interest rates near zero percent. Birinyi was one of the first analysts to recommend buying after global markets bottomed in March 2009 and has stuck with the recommendation as the S&P 500 tripled.
"We think this is a protracted, durable bull market and we should not see anything on the downside," Birinyi said. "On a three to six-month horizon, things look good to us. There aren't going to be any surprises."
U.S. stocks fell on the last day of the year, erasing December's gains for the S&P 500 and paring an annual advance after equity gauges reached all-time highs. More than $1.8 trillion was added to the value of global shares in 2014 as the S&P 500, Dow Jones Industrial Average and Russell 2000 Index of smaller companies climbed to records. The Nasdaq Composite Index reached its highest level since March 2000.
Technology, Health-Care
Birinyi, 71, said companies and industries that rose the most in 2014 should continue to do well. He singled out Restoration Hardware Holdings Inc., the Corte Madera, California-based store chain that surged 43 percent for the year, as a particularly appealing stock.
"We continue to see investor interest in technology and health care predominantly, and maybe a little bit of a pickup in industrials and a little less in financials," he said. "You'll continue to see telecom and materials stocks lag, and growth will continue to lead the market."
Even though Google Inc. declined in 2014, Birinyi called it a "wonderful long-term stock."
He was less optimistic about utilities, which led the S&P 500 with a 27 percent gain this year. Birinyi called energy shares a "snake pit" and said he was avoiding them.
The U.S. economy's expansion should gain momentum in 2015, while the Fed begins to raise borrowing costs, according to Birinyi.
"Rates at some point will pick up," he said. "We're looking for a three-quarter of a percent rise by the end of next year. The economy has been a surprise for some time."
The U.S. economy accelerated in the third quarter as consumer and business spending fueled the biggest expansion in more than a decade. Gross domestic product grew at a 5 percent annual rate from July through September, the biggest advance since the third quarter of 2003 and up from a previously estimated 3.9 percent, revised figures from the Commerce Department showed on Dec. 23.
Consumer Spending
Consumer spending is poised to grow in 2015 as stronger employment and lower gasoline prices boost household buying power, one reason why the Fed will probably raise interest rates next year. The economy grew at an average pace of 1.3 percent in the first half of the year after expanding at a 2.2 percent rate in all of 2013.
Job growth on track for its best performance since 1999 also is helping to keep up domestic demand. Employers added 321,000 to payrolls in November, raising the monthly average so far this year to 240,910. Last year, the U.S. economy gained an average 194,250 jobs per month.
Defying Pessimists
Birinyi defied pessimists throughout the advance that sent the S&P 500 up 207 percent, writing in December 2008 that stocks were near a bottom. In September 2011, he said U.S. companies were earning too much money to be dragged lower by Greece's debt crisis. The index is up more than 80 percent since then. A year later, with the gauge at about 1,400, he said comparisons with prior bull markets suggested it could reach 1,500 in four months. It took five.
In the past, Birinyi has described a four-phase evolution of bull markets in which momentum builds amid skepticism, acceptance and consolidation. The current advance has entered the last category, exuberance, characterized by the return of individual investors and less discriminate buying.
Companies in the S&P 500 are poised to earn $116.76 a share in 2014, up about 7 percent from a year ago and more than twice the $56.86 posted in 2009, according to analyst estimates and data compiled by Bloomberg and S&P. Based on the 2014 level stocks are trading at a price-earnings ratio of 17.8 percent, compared with an average of about 16.3 since 2004.
Before it's here, it's on the Bloomberg Terminal.
LEARN MORE