20 Former Members of Congress Who Died in 2014
And the marks they made on American politics.
By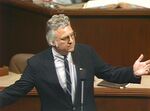 A former Senate majority leader, the first Puerto Rican-born congressman, Georgia's first Republican congressman since Reconstruction, and party-switchers were among former members of Congress who died in 2014.
There was also a former Vietnam prisoner of war who blinked out the word "torture" in Morse code on TV, a convict, and members of the so-called Watergate baby class.
As the next wave of lawmakers prepare to arrive in Washington, here's an alphabetical list of 20 of their predecessors and the marks they left on American politics.
1. Herman Badillo
New York Democrat; House 1971-1977 (died Dec. 3)
Badillo, the first member of Congress born in Puerto Rico, was the Bronx borough president before entering the House. He served as a deputy New York City mayor after unsuccessfully seeking the city's top job. Badillo switched to the Republican Party in the 1990s.
2. Howard Baker
Tennessee Republican; Senate 1967-1985 (died June 26)
The namesake son of a Tennessee Republican congressman and a son-in-law of Everett Dirksen, Baker was majority leader during President Ronald Reagan's first term. "Certainly he has been one of the finest, most skillful majority leaders of this century," Reagan said in January 1983 after Baker, then just 57 years old, announced that he wouldn't seek re-election. As minority leader in 1978, Baker bucked most of his Republican colleagues and sided with Democratic President Jimmy Carter in supporting the Panama Canal treaty. "There are some in Tennessee who still think I'm a Bolshevik," Baker joked in a 2007 oral-history interview. He also served as U.S. ambassador to Japan.
3. Caldwell Butler
Virginia Republican; House 1972-1983 (died July 29)
Butler was a freshman member of the Judiciary Committee when he joined most of the panel (though not many other Republicans) in voting to impeach President Richard Nixon in 1974. "If we fail to impeach, we have condoned and left unpunished a course of conduct totally inconsistent with the reasonable expectations of the American people," Butler said at the time. He was a mentor to Bob Goodlatte, who now represents the Roanoke area in Congress and leads the panel.
4. Bo Callaway
Georgia Republican; House 1965-1967 (died March 15)
Callaway was a Georgia Republican before it was cool. He was elected to Congress in 1964 as the state's first Republican U.S. representative since the post-Civil War Reconstruction era nearly a century earlier. He was nearly elected governor in 1966.
5. Phil Crane
Illinois Republican; House 1969-2005 (died Nov. 8)
Crane, who replaced Donald Rumsfeld in Congress, was an early exemplar of modern conservative political thought and promoted free trade on the Ways and Means Committee. He ran for president in 1980 but his candidacy never took off. Crane was defeated for re-election in 2004 by Democrat Melissa Bean.
6. Jeremiah Denton
Alabama Republican; Senate 1981-1987 (died March 28)
Denton blinked out the word "torture" in Morse code while being filmed as a prisoner of war in Vietnam. He was a surprise winner of a Senate seat in 1980, aided by the Reagan landslide. He was beaten for re-election in 1986 by Richard Shelby, a Democrat-turned-Republican who continues to hold the seat.
7. Butler Derrick
South Carolina Democrat; House 1975-1995 (died May 5)
Derrick was a behind-the-scenes operator who led the Congressional Textile Caucus. A so-called Watergate baby first elected in the Democratic wave of 1974, Derrick didn't seek re-election in 1994, when the Republican wave swept in Lindsey Graham as his successor.
8. Alan Dixon
Illinois Democrat; Senate 1981-1993 (died July 6)
A middle-of-the-road Democrat and legislative deal-maker, Dixon served more than 40 years in political office in Illinois and Washington. After voting to confirm Clarence Thomas to the Supreme Court, Dixon was unseated the following year in the Democratic primary by Carol Moseley Braun, who became the first black woman to serve in the Senate.
9. Lane Evans
Illinois Democrat; House 1983-2007 (died Nov. 5)
Evans, a Marine, focused on veterans' issues during his 24 years of House service. He announced in 1998 that he had Parkinson's disease.
10. Bill Frenzel
Minnesota Republican; House 1971-1991 (died Nov. 17)
"Loud and brainy, partisan and thoughtful, he puts his stamp on every debate he participates in," the Almanac of American Politics said in 1987 of Frenzel, who promoted free trade on the Ways and Means Committee. "I'm thought to be a fiscal curmudgeon, and I still am after having announced my retirement," Frenzel told C-SPAN in 1990.
11. Ken Gray
Illinois Democrat; House 1955-1974 and 1985-1989 (died July 12)
Gray, who delivered federal money for interstates and a federal prison in his southern Illinois district, "embraced the moniker 'Prince of Pork,'" according to the Washington Post. He was also known in Washington for "his theatrical speeches and colorful clothing choices," said the Southern Illinoisan newspaper.
12. Jim Jeffords
Vermont Republican and independent; House 1975-1989 and Senate 1989-2007 (died Aug. 18)
Jeffords will be forever remembered for bolting the Republican Party in 2001 to become an independent aligned with the Democrats, a move that led to a dramatic mid-year shift in partisan control of the Senate. He focused on environmental and education legislation. Jeffords could also carry a tune.
13. Jim Oberstar
Minnesota Democrat; House 1975-2011 (died May 3)
Public works were an abiding concern for Oberstar, who led the transportation committee during the final four years of his tenure representing the state's Iron Range. He was defeated for re-election in the 2010 Republican wave.
14. Peter Peyser
New York Republican and Democrat; House 1971-1977 and 1979-1983 (died Oct. 9)
Peyser served his first House tenure as a Republican and his second as a Democrat. His service was interrupted by a run for the Senate in 1976 that was unsuccessful.
15. Otis Pike
New York Democrat; House 1961-1979 (died Jan. 20)
Pike represented a Republican-leaning district on eastern Long Island and led the House intelligence committee when it probed allegations of wrongdoing by the CIA.
16. Robert Roe
New Jersey Democrat; House 1969-1993 (died July 15)
Roe led the public works committee's water-resources panel and the science committee. As Congressional Quarterly's "Politics in America" put it in 1989: "To both panels he brings an almost religious faith in the national benefits of massive public works, and a crusader's drive to spread them 'from the sewers to the stars.'"
17. Marge Roukema
New Jersey Republican; House 1981-2003 (died Nov. 12)
A Republican moderate, Roukema served on the banking committee and was the lead Republican sponsor of the Family and Medical Leave Act, which President Bill Clinton signed into law. In her final two campaigns, Roukema fended off primary challenges from the more conservative Scott Garrett, who won the seat upon her retirement. Garrett continues to represent the mostly upscale district dominated by Bergen County.
18. William Roy
Kansas Democrat; House 1971-1975 (died May 26)
Roy, a physician, focused on health care during his stint in Congress. He nearly unseated Republican Senator Bob Dole in 1974, when Dole and his party were weakened by the Watergate scandal.
19. Fernand St. Germain
Rhode Island Democrat; House 1961-1989 (died Aug. 16)
St. Germain led the banking committee for the final eight years of his tenure and was the "go-to guy for the savings-and-loan industry," Darrell West, a former political scientist at Brown University, told the Washington Post.
20. Jim Traficant
Ohio Democrat; House 1985-2002 (died Sept. 27)
Traficant was a piece of work. He had folk-hero status in the Mahoning Valley in and around Youngstown. He stood out in Congress for his disheveled appearance, including unruly hair and polyester suits, and for bellowing "beam me up!" during one-minute floor speeches that assailed trade pacts and the excesses of government agencies like the Internal Revenue Service. The House expelled Traficant in July 2002 after his conviction on corruption charges. He waged an independent campaign for Congress that November from his prison cell, winning 28,045 votes and 15 percent of the total.