Rio de Janeiro Braced for Bus Fare Backlash, Mayor Paes Says
David Biller and Yasmine Batista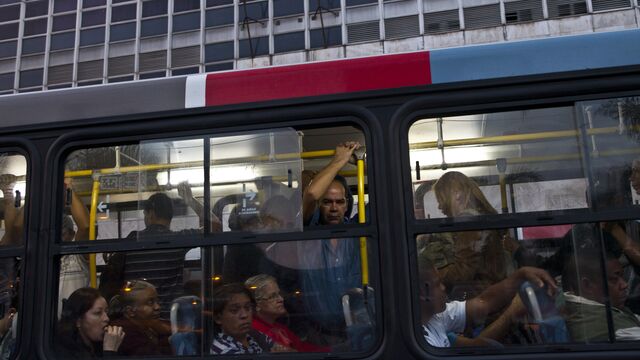 The prospect of renewed social unrest isn't deterring Rio de Janeiro's Mayor Eduardo Paes from pushing ahead with bus fare increases, he said.
"The worst thing in the world for an economy is control of prices, that's more than proven," Paes, 45, told reporters on the main stage for the city's New Year's celebrations. "With bus fares, people need to understand there's no free lunch."
Rio will boost the fare to 3.40 reais ($1.28) from 3 reais on Jan. 3, according to an e-mailed statement. The city last raised fares in February, from 2.75 reais.
Bus fare increases were the spark for 2013 protests that became Brazil's largest in two decades and torpedoed approval ratings of Paes and other authorities. Rising regulated prices add pressure to inflation that remains above the 6.5 percent ceiling of the government's target range.
The city of Sao Paulo, where the 2013 protests began, will increase its bus fares Jan. 6, while exempting public school students from paying, according to a Dec. 26 statement from the city. Sao Paulo's state government intends to do the same for subways and trains, according to a Dec. 29 statement from the state. The so-called Free Pass movement that organized the 2013 demonstrations has scheduled a Jan. 9 protest in the city with 21,000 people signed up to attend on the event's Facebook page.
Government-regulated prices rose 5.83 percent in the 12 months through November, versus 6.56 percent headline inflation. Rio's state government today also announced an increase in train and boat fares, effective in February.
"We did the increase in the past, and we're going to increase again this year," Paes said. "It's contractual, it's natural, and it's normal."
Before it's here, it's on the Bloomberg Terminal.
LEARN MORE