Reports Say Chicago Bids For Obama's Presidential Library May Be In Trouble
President Obama's alma mater, Columbia University, may now be the frontrunner.
By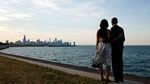 The odds of a New York-based Obama presidential library may have gotten a little bit better. The foundation responsible for recommending a site for the library is unhappy with both of the Chicago proposals, according to reports in Chicago's Tribune and Sun-Times. 
The University of Illinois-Chicago is going through leadership changes, and Obama library officials are worried that new leadership might not be as committed to the project, according to the reports.
At the University of Chicago, which has been considered a frontrunner, the problems are more complicated, according to the reports. The school submitted three sites in its proposal, but according to the reports doesn't completely control any of them. 
The Obama library foundation is reluctant to choose a proposal from a school that doesn't control the site, in case it leads to delays in construction, sources told the Tribune. 
In a statement, Susan Sher, a former chief of staff to First Lady Michelle Obama and now a senior advisor to U of C President Robert J. Zimmer, maintained that the city's South Side "is the best location for the Obama Presidential Library" and pledged that the university would keep working to "ensure a smooth public process."
People close to the Chicago effort are worried the city and schools won't be able to work out the problems before the foundation makes its recommendation early next year, according to the reports. 
Columbia University, on the other hand, has stable leadership, and owns the land its offering. And it probably helps that President Obama is very fond of New York City. The fourth school in the running, the University of Hawaii, is still considered a long shot, though no other university is proposing building the library near a beach. 
Correction: An earlier version of this story incorrectly reported the number of sites the University of Chicago has proposed for the Obama presidential library.