Play-Doh Enrages Parents With a Penis-Shaped Baking Toy
Irate parents find an "extruding tool" for decorating cakes unsavory
Belinda Lanks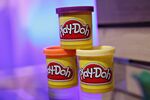 Play-Doh, by most standards, is an exceedingly innocuous toy. Kids can use the pliable dough to build all manner of things—rather than level cities and shoot people—and they can even eat moderate amounts of it without ending up in the emergency room. But over the holiday season, some parents made a rather unpleasant discovery: a tool in a Play-Doh kit that strongly resembles a penis. Pictures of the offending part circulated on Twitter with clever wordplays like "Dil-Doh." 
Included in the $20 Sweet Shoppe Mountain Playset is an extruder for squeezing out "icing" onto Play-Doh cakes, similar to a baker's pipette. But when the plunger is removed, the case takes a different (less family-friendly) form. Enraged parents have reportedly been complaining about the tool since November, but following Christmas—when the playsets were presumably doled out in relatively large numbers—angry comments on Play-Doh's Facebook page garnered more attention. The comments have now been removed. 
Play-Doh is owned by Hasbro, whose brand portfolio includes Transformers, Monopoly, and My Little Pony. Asked to comment on the snafu, Hasbro's publicist, Julie Duffy, responded thusly: "We have heard some consumer feedback about the extruder tool in the Play-Doh Cake Mountain playset and are in the process of updating future Play-Doh products with a different tool." Customers can contact Hasbro's consumer care number, 800-327-8264, to request a replacement.
The event caps a notable year of design scandals that included Hallmark's swastika-covered Hanukkah wrapping paper, Zara's kids' T-shirt resembling a concentration camp uniform, and Airbnb's new logo, which was compared to breasts, buttocks, a uterus, a vagina, and, yes, male genitalia. Indeed, 2014 will go down as the year when a handful of designers, somehow blind to history and uncanny resemblances, made some woefully egregious mistakes. 
Before it's here, it's on the Bloomberg Terminal.
LEARN MORE