Harbaugh Fulfills Childhood Dream in Return to Michigan
Mason Levinson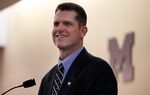 Jim Harbaugh's football coaching career, a success at both the college and professional ranks, took him back to the school he calls home.
"To come back as a football coach at the University of Michigan, I have to tell you that I have thought about that, dreamed about that, since the time I was a young lad," Harbaugh, 51, said yesterday after being introduced as the 20th coach of college football's winningest program.
Having mutually agreed to part with the San Francisco 49ers three days ago following a four-year National Football League coaching run that included a trip to the Super Bowl and three conference title game appearances, Harbaugh returned to the Ann Arbor, Michigan, school where he starred at quarterback after growing up the son of an assistant coach.
Signing a seven-year deal, Harbaugh will make the same $5 million annual salary he made with the 49ers, interim Athletic Director Jim Hackett said at an on-campus news conference.
"Our guy came home," Hackett said.
Michigan, an 11-time national champion whose 915 wins are the most in college history, fired coach Brady Hoke earlier this month after the Wolverines went 5-7 and had their win total decrease for the third straight season. The school's athletic director, David Brandon, resigned in October after being criticized for his handling of a player hit that may have resulted in a concussion.
Hoke's four-year tenure followed a three-season stint by Rich Rodriguez. Since 2008, Michigan has gone 46-42, failing to win a Big Ten conference title.
Speaking through a crackling voice that he attributed to a Gatorade shower following a season-ending win against the Arizona Cardinals, Harbaugh said he isn't comfortable being considered the savior that many Michigan fans hope he is. Michigan has lost 10 of its last 11 games against rival Ohio State and six of its past seven meetings with Michigan State.
"I don't have any guarantee for you, if that's what you're looking for," he said.
Michigan Childhood
Harbaugh, whose father, Jack, was Michigan's defensive backs coach from 1973-79, said he shoveled snow and cut lawns as a child to save money to buy Michigan memorabilia. He also recounted memories of sitting at coach Bo Schembechler's desk as a 9- or 10-year-old, thinking about someday becoming the school's coach.
"There's been times in my life where I've thought about it, dreamed about it, and now it's time to live it," he said.
Harbaugh played at Michigan from 1983-86 under Schembechler and was the Wolverines' starting quarterback his final three seasons. He threw for 5,449 yards, completing 62.4 percent of his passes while throwing 31 touchdowns and 22 interceptions.
Michigan shared the Big Ten title with Ohio State in 1986 as Harbaugh was named an All-American and the team went 11-2, losing the Rose Bowl to Arizona State.
College Coaching
He went on to play in the NFL from 1987-2001, earning a Pro Bowl invitation in 1995.
Harbaugh became a head coach at the University of San Diego in 2004, leading the Toreros to a 29-6 record over three seasons before moving to Stanford. He found success there too, rebuilding the program and going 29-21 over four seasons.
He left the Cardinal for the NFL in 2011, going 44-19-1 with the Niners while taking the team to three straight conference championship games and the 2013 Super Bowl. Harbaugh's Niners lost in the NFL title game to the Baltimore Ravens, who were coached by his brother, John.
Harbaugh compared his past head coaching stints -- none longer than four years -- to being a homebuilder.
"I'd really like to live in one permanently, and that's what I'm very hopeful for here," he said.
Intense Demeanor
With Harbaugh known for his intense demeanor, speculation began during the first week of the season that he had lost the confidence of some of his 49ers players and clashed with team executives, making his eventual departure unsurprising.
San Francisco Chief Executive Officer Jed York said two days ago that he and Harbaugh agreed to the split.
"We've had philosophical discussions and when we sat down we just couldn't come to a place where we thought moving together was best for either party," York said at a news conference, declining to specify the differences.
Before it's here, it's on the Bloomberg Terminal.
LEARN MORE