Is This the Dawn of the #Tsiglesias Era in the Euro Zone?
A political backlash is brewing in the euro zone
By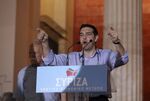 During the first wave of the euro zone crisis, when borrowing costs were surging in places like Greece and Spain, Germany's Angela Merkel and France's Nicolas Sarkozy were often seen onstage together, pushing their fellow members of the common currency to reform their economies and adopt austerity. Together they were referred to as #Merkozy (that is, until Sarkozy lost his reelection bid).
Now a new alliance may be forming.
On Monday, the Greek parliament failed in its third and final attempt to elect a president, meaning the country will see snap elections in early 2015. The party currently leading in the polls is the left-wing Syriza, which opposes the current austerity regime. Syriza is making the rest of the euro zone quite nervous with its promise that, if elected, it would attempt to renegotiate the existing bailout. 
After the vote, one of the first tweets sent from Syriza leader Alexis Tsipras was a response to fellow left-winger Pablo Iglesias, the head of Spain's Podemos party.
While Tsipras's rise in Greece has been impressive, the rise of Iglesias and Podemos is even more mind-blowing. Podemos isn't even one year old as a party, and already it's polling near the major parties. Like Syriza, Podemos strongly opposes the path that the euro zone has taken. 
Tsipras's tweet at Iglesias wasn't the first time the two have linked up publicly. In May, after Iglesias won a seat in the European Parliament, his party tweeted a picture of him talking to Tsipras on the phone.
The first wave of the euro zone crisis in 2010-12 was about investor fear over debt sustainability. Since then the sovereign debt crisis has essentially ended (thanks in large part to the European Central Bank), but the economic crisis continues to simmer as the unemployment rate (especially in peripheral Europe) is sky-high. The frustration with that is increasingly showing up in polling, as voters express support for politicians promising to change the system.
Tsipras and Iglesias are the two budding leaders of this new push. Which means that #Tsiglesias may be to the euro zone next year as #Merkozy was a few years ago.