House Republicans Circle the Wagons Around Scalise
The Louisiana Republican appears to have survived a politically tumultuous 48 hours.
By and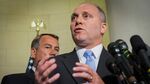 With a rush of Republicans coming to the defense of Steve Scalise, the Louisianan appears to have saved his position as the No. 3 spot in the U.S. House of Representatives.