House Republicans Circle the Wagons Around Scalise
The Louisiana Republican appears to have survived a politically tumultuous 48 hours.
By and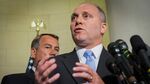 With a rush of Republicans coming to the defense of Steve Scalise, the Louisianan appears to have saved his position as the No. 3 spot in the U.S. House of Representatives.
In the past 48 hours, Scalise has been embroiled in what threatened to become the Serial version of Louisiana hotel conference rooms, as a cast of characters struggled through hazy memories and incomplete record-keeping to put the pieces together of the day some 12 years ago when a group of white nationalists met at the Landmark Best Western in Metairie, La.
But as Scalise condemned the group organized by former Ku Klux Klan leader David Duke and apologized for speaking at one of its meetings—even as the meeting's organizer contradicted Scalise—he was roundly praised by House Speaker John Boehner and Majority Leader Kevin McCarthy, the only two House Republicans who outrank him, helping protect his standing as majority whip a week before the start of the new Congress and Boehner's anticipated re-election to the speakership.
"Congressman Scalise acknowledged he made a mistake and has condemned the views that organization espouses," McCarthy said in a statement on Tuesday. "I've known him as a friend for many years and I know that he does not share the belief of that organization."
Support from Boehner and McCarthy sends a strong signal that the leadership believes there may not be much left to embarrass Scalise, or the party.
Raising the stakes for party leaders is the racially charged atmosphere in which the saga has unfolded.  The Eric Garner and Michael Brown cases sparked nationwide protests and convinced many that race relations have worsened under President Barack Obama, the first black president. On Capitol Hill, Republican leaders have struggled to keep some members from using racially insensitive language amid a legislative standoff over immigration legislation.
While there's always a chance that more details of the event could emerge, Duke insisted that his group has no copy of Scalise's speech, either the text or on video.
The political scare for Scalise, 49, started over the weekend when the Louisiana blog CenLemar.com dug up posts from an online forum for white nationalists that indicated he spoke to Duke's group in 2002. The congressman, who was in the state House at the time, told the New Orleans Times-Picayune on Monday that he didn't know he was speaking to a white nationalist group, and added that he couldn't remember the event.
By then, it was already open season on Scalise's record.
Before Boehner and McCarthy issued statements, Duke, 64, stepped in to throw a bit of cold water on Scalise's faulty memory, saying Scalise probably would have known about the group, the European-American Unity and Rights Organization, or EURO. "It would seem likely he did know, but that doesn't mean that he did," Duke, 64, said in a phone interview with Bloomberg Politics. "And if he had known, I can understand why his memory would fail him a little bit."
There may have been good reason Scalise couldn't remember. The organizer of the EURO event, Kenny Knight, insisted that Scalise never even spoke to the group. Knight, 65, said an interview that Scalise actually spoke to the local civic association. Since Knight had secured the room and already paid for snacks, he said he decided to get together with some neighbors to talk about forming a neighborhood watch, get a refresher on CPR, and hear about Scalise's legislative agenda.
Whatever happened, Scalise apparently has retained the support of the top Republican brass. In his statement, Boehner pointed out the day in question happened "more than a decade ago," adding that Scalise has "my full confidence."
"Like many of my colleagues on both sides of the aisle," Boehner said, "I know Steve to be a man of high integrity and good character."
There also are differences between the Scalise controversy and the events that led former Senator Trent Lott of Mississippi to relinquish his Republican leadership post in December 2002, said Lott's former spokesman, Ron Bonjean.  
Lott stepped down after becoming the target of criticism for saying at former Senator Strom Thurmond's 100th birthday party that the nation would have been better off if the South Carolinian had won his 1948 segregationist campaign for president.
"The major difference right now is that the Republican leadership is holding together as a solid formation," said Bonjean, now a Republican strategist. In Lott's case, he said, the White House under former President George W. Bush "actively opposed Trent Lott's leadership position behind the scenes."
"The volume of voices were so much more stronger and intense on the other side–everyone from (former) Vice President Al Gore to the Congressional Black Caucus was out there ginning up opposition and calling the Senate. That's just not happening right now," he said.