Andy Murray Signs Four-Year Agreement With Under Armour
Danielle Rossingh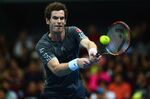 Former Wimbledon champion Andy Murray signed a four-year agreement with U.S. company Under Armour Inc., replacing Adidas AG as his main clothing sponsor.
The sixth-ranked player will wear Under Armour apparel, footwear and accessories from 2015, both parties said in an e-mailed statement today. Terms weren't disclosed.
Murray's five-year deal with German sportswear manufacturer Adidas expired this year.
At Under Armour, Murray joins athletes including former Olympic downhill champion Lindsey Vonn, fellow tennis player Sloane Stephens and golfer Jordan Spieth. Founded by Chief Executive Officer Kevin Plank in 1996 to sell clothes to go under football jerseys, Under Armour has expanded into shoes, yogawear and bags with total sales of $2.66 billion in the 12 months through June.
Murray said in the statement he was "very honored and excited" to join the Baltimore-based company.
"Signing Andy is really a special moment for the brand, as we continue to elevate and diversify our athlete roster and expand our international presence," said Ryan Kuehl, Under Armour's senior category director, global golf and tennis.
Standard Life
Murray also has endorsement deals in place with U.K. pension company Standard Life Plc and Swiss watchmaker Rado. He earned $19.1 million on and off the court in the 12 months to June, according to Forbes, which ranked him the seventh-highest paid tennis player in the world. The sport's top earner is Roger Federer with $56.2 million, followed by nine-time French Open winner Rafael Nadal with $44.5 million and top-ranked Novak Djokovic with $33.1 million.
Murray broke through in 2012, winning Olympic gold and the U.S. Open, his first major singles title. A year later, he beat Djokovic in the finals of Wimbledon to become the first man from Britain to clinch the men's title since Fred Perry in 1936.
Murray, 27, had a topsy-turvy season, parting ways with his coach Ivan Lendl in March and hiring former Wimbledon champion Amelie Mauresmo in June. Last month, he stopped working with two long-term members of his team, assistant coach Dani Vallverdu and fitness coach Jez Green.
Struggling with the aftermath of back surgery at the end of 2013, Murray lost to Grigor Dimitrov of Bulgaria in the quarterfinals of Wimbledon. Ranked outside of the top 10 for the first time since 2008, Murray won three tournaments between September and November to qualify for the season-ending ATP World Tour Finals in London. He was knocked out of the group stages by 17-time major winner Federer, winning just one game.
Before it's here, it's on the Bloomberg Terminal.
LEARN MORE