2014 Was the Year Colleges Finally Had to Answer for Rape on Campus
Three years after the government changed the guidelines for how colleges report sexual assault, rape became a dominant issue at universities across America
by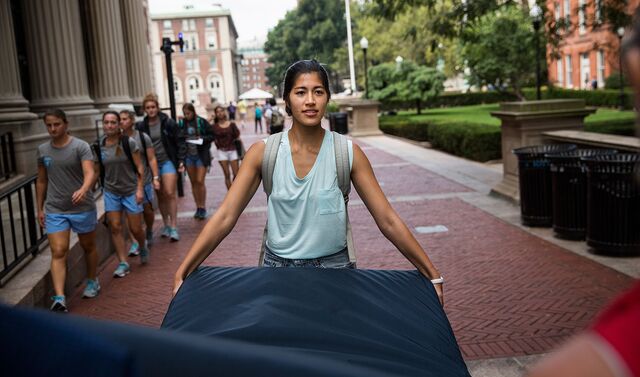 It has been three years since the government issued new guidelines for how colleges must handle sexual violence, but this was the year we learned just how badly our institutions needed them. Stories of sexual assaults on campuses—and mangled responses by colleges—made rape a dominant issue for American colleges and universities. Meanwhile, in response to those who criticized the coverage as sensational or downright overblown, a growing number of women revealed their own experiences of sexual assault at college. Here are the stories that fundamentally changed the way we think about sexual assault this year:  
New York magazine chronicled the crusade of Emma Sulkowicz, a Columbia University student who began carrying a 50-pound mattress everywhere to represent the burden she carries after the university cleared the senior man she accused of rape. The alleged perpetrator, Paul Nungesser, told the New York Times this month that he has been unfairly maligned and humiliated thanks to Sulkowicz's allegations. 
At the University of Virginia, a Rolling Stone article describing a supposed gang rape at a fraternity spurred broad criticism of the way the school deals with sexual assault allegations and prompted an ongoing effort among administrators to fix their approach to campus rape. Rolling Stone later backed away from the article, after the Washington Post found deep factual irregularities in the account. 
The New York Times detailed Hobart and William Smith Colleges' botched response to a student's claim that she had been raped by several members of the school's football team. The student body rallied around the woman and the college's board vowed radical changes to the school's culture and policies, BuzzFeed reported. 
My colleague Claire Suddath documented the grassroots campaign to bring colleges to account for failing to properly adjudicate students' claims of sexual assault. A group of female students are filing complaints with the Department of Education, charging that the colleges violated women's rights under Title IX. In the process, Suddath reported, the student activists are "changing the way discipline occurs in the quiet, self-policed world of the college campus."
Bill Cosby has long faced accusations of sexual assault, but as the claims gathered momentum in recent months, several colleges severed ties with Cosby, a longtime benefactor and perennial commencement speaker. Of particular note: Cosby stepped down from his position on the board of trustees at Temple University, ending an unusually close relationship between the comedian and his alma mater. Spelman College, the historically black women's college and the inspiration for the Cosby Show spinoff A Different World, suspended an endowed professorship funded in part by a $20 million gift made by Cosby and his wife, Camille, in 1988. 
These news stories, and the controversy over the Rolling Stone article in particular, prompted many women to tell their personal stories of rape on campus. Here are five: 
Rachel Dodes Wortman, a former Wall Street Journal reporter who now works at Twitter, described being drugged and raped when she was a senior at Cornell University. "There are a series of blurry images, like a movie montage: us kissing on the couch, him carrying me to his bed, and then choking me while we had sex. I don't remember saying 'No,' but I also think the issue of consent, in this particular instance, is not really applicable," she writes. 
Randi Weingarten, the president of the American Federation of Teachers, wrote on Jezebel this month about having dinner with a "nice Jewish boy" who tried to rape her during the summer between her junior and senior years at college. She told her story, she said, because she was worried that the retraction of the Rolling Stone story would erect a "curtain of silence, where young women feel too afraid to share their truth." 
Abigail Hauslohner, the Cairo bureau chief at the Washington Post, told the story of visiting a family friend at his college 14 years ago, going to a fraternity party, and being raped by the friend afterward in his dorm room. She recalls "my head lolling to one side and then my body falling back onto the mattress," before repeatedly saying "No." 
In an essay in her book, Not That Kind of Girl, Lena Dunham wrote about being assaulted by a fellow Oberlin College student after leaving a party drunk and high. In a BuzzFeed post this month, Dunham described the backlash she faced for recounting the incident, including having her "character and credibility questioned at every turn" and being "attacked online with violent and misogynistic language." 
Susan Dominus, a reporter for the New York Times Magazine, uses column space to chronicle an episode in her senior year of college, where she drank unidentified liquid from a red cup at a party and was later assaulted by the man who filled the cup for her: He pressured her, "until, under the influence, I stopped resisting."
Correction, Dec. 31: Rolling Stone backed away from its story about a gang rape at the University of Virginia, but it did not officially retract the piece. 
Before it's here, it's on the Bloomberg Terminal.
LEARN MORE