Did 2014 Do Anything for Women at Work?
At the office, female professionals still have it surprisingly tough
By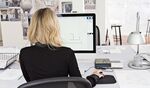 In 2014 several companies, including Universal Music Publishing Group and American Apparel, tapped their first female chief executive officers. On the other hand, it was also the year Microsoft CEO Satya Nadella said women shouldn't ask for raises, women sued Goldman Sachs over its alleged "boys' club culture," and Silicon Valley took heat over excluding workers who didn't fit the brogrammer mold.