Did 2014 Do Anything for Women at Work?
At the office, female professionals still have it surprisingly tough
By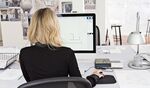 In 2014 several companies, including Universal Music Publishing Group and American Apparel, tapped their first female chief executive officers. On the other hand, it was also the year Microsoft CEO Satya Nadella said women shouldn't ask for raises, women sued Goldman Sachs over its alleged "boys' club culture," and Silicon Valley took heat over excluding workers who didn't fit the brogrammer mold.
Here's a glance at the state of affairs for professional women at the end of 2014. 
Still not getting paid as much as men (even when they're just as experienced and doing the same type of work).
Women graduating from business school in 2014 were slated to earn $14,548 less than their male peers in their first job out of school, an analysis of  Bloomberg Businessweek data found. Some skeptics of the gender-wage gap have argued that women are paid less because they tend to enter lower-paying industries or because they set their salary clock back by taking breaks to start families, yet the wage gap held steady even when women and men entered the same field and had roughly the same level of experience. Among career-switchers, who all leave business school with the same amount of experience relevant to the industry they're entering (that is to say, no experience), women still made less than men. 

Getting hired in droves by diversity-loving companies—just not for the most important jobs.
Companies love to tout their diversity initiatives but tend to get quiet when you ask them to break down their female workforce by seniority level. It turns out that, especially within the financial services sector, very few women make it to the top ranks of companies. When they do, they're often in departments that don't drive the company's bottom line, leaving them with a smaller role in steering the company's direction. 

Having trouble finding workplace advocates.
Research says one of the best things a young worker can do is to find himself or herself a sponsor— co-worker who'll advocate for them in the workplace. The problem is that senior women who speak up for female employees are more likely to get negative evaluations from their bosses. Complicating matters further, both men and women are less likely to want to mentor women.
Unpopular as bosses.
Just a fifth of Americans surveyed by Gallup in October said they'd prefer a female boss over a male boss. Women (39 percent of whom said they'd prefer a male boss) were even more likely than men (26 percent of whom said they'd prefer a male boss) to say they wanted their boss to be a man.