The Real Reason You Get Lost in New York City
The right address can boost the value of a luxury apartment, even if it doesn't make topographical sense
By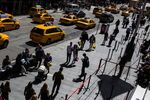 A soon-to-be completed Manhattan high-rise, 432 Park Avenue, is already known for its height (at 1,396 feet, it's the island's tallest residential building) and its outlandish prices (the cheapest available unit on the building's website is a two-bedroom for $16.95 million). Once the building is done, it may have another distinguishing feature: an address that confuses cabdrivers, postal workers, delivery people, and anyone else navigating the city streets.
That's because 432 Park Avenue isn't really on Park Avenue. The building's southern face, where residents are likely to enter, is on 56th Street, about 150 feet from the corner of the famed boulevard. The tower also borders 57th Street, where a chic shirt maker and an auction house lie between 432 Park (the building) and Park Avenue (the actual avenue). So what exactly determines a luxury skyscraper's name?
Addresses are "essential to navigating any city," and should "make finding specific buildings and entrances as easy as possible," states a New York City document describing the process of assigning street numbers. But an address can also function as a brand name. "People want to tell their friends and family they're buying on Park Avenue," says Andy Gerringer, managing director at Marketing Directors, a New York-based real estate consultancy. "It goes along with the glitz and glamor of the building." (Neither the developer, Macklowe Properties, nor Michael Tavani, the press contact for 432 Park Avenue, responded to queries for this story.)
In a nod to developers, the city allows building owners who provide cogent rationale and an $11,000 processing fee to obtain a vanity address. Apartment buyers will pay a premium for the privilege. A dwelling with a Park Avenue address is often worth 5 percent to 10 percent more than a comparable apartment on a nearby side street, says Jonathan Miller, president of appraiser Miller Samuel. (Disclosure: Miller is a contributor to Bloomberg View.) That makes the city's processing fee an outright bargain. "Name another thing you can get on a development project that you can get for $11,000," Miller says.
To balance the needs of developers and, say, cabbies, the borough president's office asks applicants seeking vanity addresses to explain why they want to break from the status quo. Buildings with frontage on multiple streets are often granted an address that doesn't correspond to its entrance. (That criterion likely applies to 432 Park, whose lot borders Park Avenue at the corner of 56th Street.) Structures that border notable areas—Lincoln Center or Penn Station, for example—can also apply. Vanity addresses "must avoid creating confusion as to a building's location," according to the city document describing the process.
Anecdotal evidence suggests office buildings are as likely to request vanity addresses as residential developments. Notable examples include One Bryant Park, where Bank of America bases its New York operations, and 200 West St., which Goldman Sachs calls home. Then there's the rat's nest of addresses that use Times Square in lieu of a street name. Those buildings, which house commercial tenants, are particularly tough to find because their numbers give little clue to their respective locations, says Anthony Borelli, vice president of planning and development at Edison Properties.
Borelli should know: From 2006 to 2011, he was responsible for approving vanity addresses as the director of land use and urban planning for the Manhattan Borough President's office. "I remember when I first took the job, I said I can't believe we have to do this stuff," he says. Not that vetting vanities is particularly taxing. The historical record is spotty, but a spokesman for the borough president's office says that Manhattan granted five requests this year and six in 2013.
Still, a city official will occasionally rail against the vanity system. In 1988, the general counsel for the Manhattan borough president told the New York Times that his boss, the future mayor David Dinkins, had decided "that changing addresses was not a gift that we should bestow indiscriminately" to developers. Current borough president Gale Brewer says her office is working on a more effective system. "It's both a public safety issue and an issue of sheer logic that addresses on New York's streetscapes make sense," she adds.
Those comments are tame compared with the situation in Chicago, where local officials have been railing against—and occasionally banning—vanity addresses at least as far back as 1987. That year, an office worker died in a fire at 1 Illinois Center, a vanity address on East Wacker Drive, after emergency responders failed to find the burning building.
In New York, Brewer's desire to improve the system is a timely one. Record land prices are leading developers to squeeze value out of new projects anywhere they can, Miller says. And the importance of foreign buyers to the high-end residential market may increase developers' desire for addresses with some global recognition. Gerringer, the marketing consultant, says some developers have even been trying to get the lucky number eight into addresses to appeal to Chinese buyers.
Nancy Lerner, president of Chicago-based branding firm Otherwise, says she encourages real estate clients to be creative when naming buildings, and think beyond famed streets or landmarks. "It's about believing you have a piece of architecture that's going to have a lasting effect on the urban landscape," she says. Still, she concedes that developers who want to get a building sold fast will likely resort to that old real estate cliché. "The notion is that address is tied to location," she says, "and location is paramount to importance."
Correction: This story originally referred to 432 Park Avenue as "the tallest building" on the island of Manhattan. At 1,776 feet including spire, One World Trade Center is taller as designated by the Council on Tall Buildings and Urban Habitat. The original version also misspelled the name of Manhattan Borough President. It is Gale Brewer, not Gail Brewer.