Port Authority's Revisions Face Maze After Christie, Cuomo Vetoes
Freeman Klopott, Terrence Dopp and Martin Z. Braun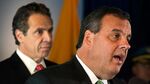 The plan for changing the Port Authority's management structure that Chris Christie and Andrew Cuomo proposed after vetoing a unanimously passed overhaul bill must retrace a legislative labyrinth to become reality.
Lawmakers in two states passed without a dissenting vote the measure that would've limited the governors' sway over the agency, its $7.8 billion budget and more than 7,000 employees. When Christie, a New Jersey Republican, and Cuomo, a New York Democrat, vetoed the bill Dec. 27, they ensured that their substitute would run a harrowing political gantlet.
"We'll be starting from scratch," New Jersey Assembly Speaker Vincent Prieto, a Democrat from Secaucus, said yesterday. "This wasn't a Democrat or Republican issue. Everyone that was involved worked hard to get it done. It's disappointing."
Lawmakers, transportation advocates and government watchdog groups have pressed for fundamental changes at the 93-year-old Port Authority of New York and New Jersey since e-mails surfaced showing Christie allies helped engineer traffic jams on the George Washington Bridge as retribution for a mayor who didn't endorse him. The bills would have required the agency's directors to act in the best interests of its mission administering much of the New York region's infrastructure, driving home that their primary concern should be policy, not politics.
Unpersuaded Observer
In the veto and counterplan, released simultaneously at 6 p.m. on a holiday-week Saturday, some see the governors seeking to maintain control over an agency that has been a source of patronage and funding.
"I can't imagine why the governors don't believe in the fiduciary obligations of their directors going to the purposes for which the authority exists, except that if it smells like a fish and feels like a fish and looks like a fish, it's a fish," said Richard Ravitch, a former New York lieutenant governor.
With the vetoed legislation, the two governors had a chance to join a rare consensus among Republican and Democratic lawmakers in two states, said James Brennan, the Brooklyn Democrat who sponsored the bill in the New York Assembly.
"It's arrogant, certainly, to somehow present themselves as the reformers in this situation," he said. "They were hoping that there would be little public attention to the fact that the legislative bodies had done this so they could appear as the protagonists in their own play."
Technocratic Invention
In his veto message, Cuomo said lawmakers knew he and Christie had appointed a panel to study the Port Authority, and passed their bills anyway. The panel's conclusions, which form the plan the governors are putting forward, conflict with those in the bills, he said.
Formed by a compact with the consent of Congress, the agency was designed to overcome rivalry over waterfront commerce. It is governed by 12 commissioners, six appointed by each governor for overlapping six-year terms. Its portfolio has expanded to three major airports, four bridges, the bus terminal, commuter rail, two tunnels and ports and the World Trade Center site.
Starting in the 1970s, governors began diverting money to projects outside its central mission, according to Jameson Doig, a professor emeritus at Princeton University in New Jersey and author of "Empire on the Hudson," a history of the Port Authority. The agency built offices in Newark, New Jersey, and its funds were tapped by Governor Mario Cuomo, Andrew's father, to balance New York's budget. It nurtured projects such as the Liberty Science Center in New Jersey and a library on 34th Street in Manhattan, Doig said.
Muddy Feet
The authority has been a place where jobs were awarded to connected applicants. Those numbers rose under Christie, said Doig.
Both Christie, 52, and Cuomo, 57, took office carrying the mantle of reform. Both now face ethics inquiries. Christie, who's said he's considering a presidential run in 2016, has been under scrutiny by a federal prosecutor and a legislative committee about the traffic jams in September 2013. In Manhattan, a U.S. attorney is examining the Cuomo administration over its meddling in the affairs of an anti-corruption panel.
Vetoing a bill inspired by the bridge scandal may sully Christie's image as a reformer on the 2016 campaign trail, said Ben Dworkin, director of the Rebovich Institute for New Jersey Politics at Rider University in Lawrenceville.
"When you're running for president, as the governor is, every issue has wider implications," Dworkin said. "Even though it's just a bistate agency, his record in dealing with the Port Authority will be part of the debate in 2016."
Divergent Visions
Cuomo will begin his second-term Jan. 1. In his first four years, he pushed through a bill legalizing same-sex marriage and ended legislative gridlock, passing the first four on-time budgets since 1977. In the past year, he's been attacked by good-government groups and probed by the U.S. Attorney Preet Bharara for his administration's attempt to keep an anti-corruption commission he chartered from examining his campaign and allies.
Two days ago, Cuomo and Christie said that their vision for the Port Authority differed too much from the bills to sign them.
New York's governor has traditionally appointed an executive director to run the authority's day-to-day operations, while New Jersey's governor appointed the agency's board chairman. In the mid-1990s, New Jersey's governor began appointing a deputy executive director, which further injected politics into operations and divided the agency into camps.
Fresh Effort
Cuomo and Christie, who supported with some modifications a bill extending freedom-of-information laws to the agency, recommended creating a single chief executive to replace the executive and deputy executive directors. The board chairmanship would be shared or rotated.
Either approach would be a "dramatic improvement," said Robert Yaro, who's retiring this year as president of the Regional Plan Association, which advocates improved infrastructure for the region.
Still, many provisions of the plan require both legislatures to pass identical bills once again, and the governors said in their statement they would seek "bi-state legislation consistent with the Special Panel's Report."
In his veto message, Cuomo said he'll ensure the panel's report bears fruit.
"I look forward to working with my partners in the Legislature and in New Jersey in the coming year to see that these comprehensive reforms are completed," he wrote.
Closed Door
The vetoed legislation, in addition to requiring officials to place the authority's interests first, dictated that the agency file annual audit reports and that officials appear before legislative hearings. Six public hearings were to be held before tolls could be increased, and records of lobbyist contacts were to be kept.
Overriding the vetoes isn't probable, particularly in New York where only three days, including today, remain in the legislative session, said Michael Whyland, a spokesman for Assembly Speaker Sheldon Silver, a Manhattan Democrat.
"Legislation is needed and we will work with our colleagues in both states to bring increased accountability to the Port Authority," Whyland said in an e-mailed statement.