Monday Morning Find: Tropical Rolex GMT Ref. 6542
By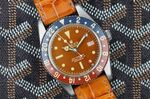 Vintage Rolex watches are all about the minutiae. The size of a serif or the placement of hash mark can be the difference between a mundane $5,000 watch and a drool-worthy $50,000 watch. You don't need to know any of that to recognize that this GMT-Master is something special. The caramel brown dial was black when it originally came out of the factory and the original two-tone Bakelite bezel was only made for a short time in the early 1950s. The Rolex GMT, with it's so-called "Pepsi" red and blue bezel is the jet-set watch to own and they don't get much better than this one.
The GMT-Master was introduced in 1954 under the reference number 6542. The watch was designed in collaboration with Pan-American Airlines as a way for pilots to keep track of both local time and the time back home with minimal fuss. That extra pointed-arrow hand goes around the dial once every 24 hour and by simply turning the rotating bezel, the wearer can use that hand to track time anywhere in the world. A Pan-Am pilot could leave the main hands on home time, telling him when to call his wife (and, two hours later, his mistress).
Rare Traits

The first run of 6542 GMTs had bi-color Bakelite inserts for the rotating steel bezel. Problematically though, just after the watches made it out into the market the red Bakelite was found to be slightly radioactive and Rolex replaced most of them with the painted aluminum inserts that you're probably used to seeing. Not too many of the originals remain intact and even without a companion watch they can fetch five-figure prices. For just a plastic bezel. No joke.
In addition to that covetable bezel, this watch has an extremely "tropical" dial that is an almost orange caramel color. Due to a problem with the black colorant used on some batches of vintage dials, the discs can turn brown with enough exposure to sunlight and humidity. Hence the nickname "tropical." Often they end up chocolate brown, but this one has gone absolutely crazy. What is special here is that the definition at the edges of the text has remained crisp and clear and the color change is surprisingly even across the whole dial.
The Little Things

So, while I can't recommend strongly enough that you learn the difference between a "T Swiss T" and a "Double Swiss" dial, and knowing your Mark I from your Mark IV is probably a good idea, sometimes a good watch just looks like a good watch. This is one of those times. Lucky you.
This tropical Rolex GMT-Master ref. 6542 is available from 10PastTen and is priced at $125,000.
Before it's here, it's on the Bloomberg Terminal.
LEARN MORE