Icahn Seeks Manitowoc Talks on Split of Crane, Food Units
Simon Casey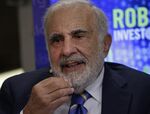 Billionaire Carl Icahn became the second activist shareholder this year to seek the separation of Manitowoc Co.'s crane-making and commercial-food appliances divisions.
Icahn disclosed his 7.8 percent stake in the Manitowoc, Wisconsin-based company today in a filing. He's seeking talks with the company and may pursue board representation "if appropriate." Shares of Manitowoc rose 8.9 percent in New York.
Manitowoc said in June it had discussed a potential breakup with activist investor Relational Investors LLC and it was being advised by Goldman Sachs Group Inc. Separating the cyclical crane business from the more stable food-service group, which makes equipment such as refrigerators, would enhance capital allocation and strategic flexibility and attract more focused shareholders.
In October, the company cut its full-year sales forecast for the crane business. Sales will decline by a "mid-to-high single-digit" percentage, it said Oct. 9. Chairman and Chief Executive Officer Glen E. Tellock blamed the drop on "a constrained demand environment globally."
The crane segment accounted for 62 percent of revenue last year with food-service comprising the rest, according to data compiled by Bloomberg.
Manitowoc closed at $22.79 in New York. The stock is down 2.3 percent this year. No one at the company returned calls seeking comment. Icahn didn't immediately respond to a request for additional comment.
Relational, co-founded by Ralph Whitworth and David Batchelder, holds a 8.2 percent stake, data compiled by Bloomberg show.
Before it's here, it's on the Bloomberg Terminal.
LEARN MORE