Jets Fire Ryan as Falcons, Bears Make NFL Coaching Change
Erik Matuszewski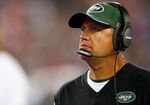 The New York Jets fired head coach Rex Ryan and General Manager John Idzik after the team went 4-12, its worst record since 2007, and missed the National Football League playoffs for a fourth straight season.
The Atlanta Falcons released coach Mike Smith from his contract after missing the playoffs with a 6-10 record, while the Chicago Bears fired coach Marc Trestman and General Manager Phil Emery after a five-win season. The dismissals come a day after the NFL's regular season ended.
Ryan had a 46-50 record over six seasons in New York, including a 26-38 mark since guiding the Jets to the conference championship game in each of his first two years as head coach. Idzik spent two seasons with the Jets, joining the team in 2013 to succeed Mike Tannenbaum after six years as the Seattle Seahawks' vice president of football administration.
"Both Rex and John made significant contributions to the team, and they have my appreciation and gratitude for their efforts and commitment," Jets owner Woody Johnson said in a statement. "Over the years, Rex brought the Jets a bold confidence and a couple of great post-season runs, which all of us will remember."
Johnson, who said he made the changes after extensive thought and reflection, has brought in former NFL general managers Charley Casserly and Ron Wolf as consultants in the search for new leadership. Johnson said they've assembled a list of potential coaches and general managers, and reached out to those candidates already. He said there's no timetable to hire one before the other, though the preference would be to bring in a general manager first.
"It's a very critical time right now," Johnson said at a news conference. "We've got to make some good decisions. We have to structure it properly and know exactly what we're looking for in a head coach."
Quarterback Development
Ryan's exit comes as the Jets failed to develop a successful starting quarterback in an era of an increased focus on the passing game in the NFL. A record nine quarterbacks threw at least 30 touchdowns this season, breaking the previous record of five. Ryan was the Baltimore Ravens' defensive coordinator before joining the Jets.
While the Jets went to the American Football Conference title game in Ryan's first two seasons with Mark Sanchez at quarterback, Sanchez committed a total of 52 turnovers the next two years while compiling a 14-17 record as a starter. Geno Smith, a second-round pick in 2013, has had 42 turnovers over his first two seasons.
The Jets opened this campaign with a home win over the Oakland Raiders before an eight-game losing skid during which Michael Vick replaced Smith at quarterback. At the midway point of the season, Idzik apologized to Jets fans and took responsibility for the team's "gut-wrenching" start.
'Heart and Soul'
The players continued to support Ryan, 52, who Jets linebacker David Harris yesterday said was the "heart and soul" of the franchise. Jets defensive back Dawan Landry, who also played under Ryan in Baltimore, said Ryan is a "player's coach" who inspires with his energy and passion.
When asked about his job status following yesterday's game, in which the Jets had their highest-scoring game of the season, Ryan said he wasn't afraid of what lies ahead, though he didn't want to comment further on his situation. Smith threw for a career-high 358 yards and three touchdowns in the 37-24 win over the Miami Dolphins.
Mike Smith had a 66-46 record over seven seasons as coach of the Falcons, capturing two division titles in the National Football Conference South.
Panthers Loss
The Falcons had a chance to win another division title yesterday, earning the right to host a playoff game, yet were routed 34-3 at home by the Carolina Panthers. Smith, who was the first coach in franchise history with back-to-back winning seasons, said after yesterday's game that he's ultimately responsible for the six-win season.
"Smitty's contributions to our club, team and city over the last seven years are numerous," Falcons owner Arthur Blank said in a statement. "His accomplishments on the field made him the most successful coach in the 49-year history of the Falcons, and we are grateful for the foundation he has laid for us for the future."
The Bears parted ways with Trestman after two seasons and Emery after three. Chicago went 5-11 this season -- its worst record since 2004 -- and lost its final five games.
CFL Past
Trestman is regarded as an offensive-minded coach who won two titles in the Canadian Football League, yet the Bears ranked 23rd out of 32 NFL teams in scoring and lost seven games by more than 10 points. Trestman benched Jay Cutler during the Bears' late-season slide, less than a year after the quarterback signed a seven-year contract extension that ESPN said has an average annual value of $17.6 million.
Jim Harbaugh yesterday mutually agreed to part ways with the San Francisco 49ers following four seasons as coach. The University of Michigan has told its biggest boosters that Harbaugh will be hired as the school football coach, according to ESPN.
Before it's here, it's on the Bloomberg Terminal.
LEARN MORE