Eight Revealing Facts From Shake Shack's IPO Filing
Inside Danny Meyer's plan to build more than 400 new Shake Shacks in the U.S.
By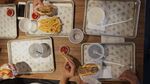 In 10 years, Shake Shack has grown from a line-around-the-block seasonal outpost to an international burgernaut, with "Shacks" in London and Dubai, and founder and restaurateur Danny Meyer is getting ready to take the company public. In documents filed with the Securities and Exchange Commission today, Meyer announced plans to raise $100 million in an initial public offering that could value the company at as much as $1 billion, or about half the size of Papa John's. "If you're interested in owning part of Shake Shack, you will no doubt want to read every word of this prospectus," Meyer wrote in a letter included in the filing. For those who don't have the time, here are the highlights:
Shake Shack everywhere. Investors care about growth, and Shake Shack has a very clear, straightforward plan: Open more stores. For well-established chains, there's more pressure to improve same-store sales or sell licenses to outside operators. Shake Shack will have to do that, too, but "the number of new Shack openings relative to our comparable Shack base remains our primary driver of growth," according to the S-1. The chain has opened 18 company-operated Shacks since 2012 and is on pace to double revenue over the same period. 
First, Manhattan. Then the world? Shake Shack is a New York joint if ever there was one: The first Shack was actually a hot-dog cart in a New York City park; today the outposts at Citi Field draw more praise than the Mets ever have. Shack burgers sell better in Manhattan, too. The average annualized sales at the company's New York restaurants was $7.4 million in 2013, nearly double the average annual take at non-Manhattan Shacks. (The company's prospectus actually contains the phrase "non-Manhattan Shacks.")
The burgers aren't the only things that come with cheese. Here are some other semicreative uses of the word "shack" from the filing: Shack-o-nomics. Same Shack Sales. Shack-level operating profit. The company's stock will trade under the ticker SHAK, natch.
There's such a thing as burger weather. At any rate, Shake Shack's sales have traditionally increased fastest during warmer months.

Beer is a big deal. One thing that separates upscale chains like Shake Shack from pure fast-food franchises: wine and beer. Which, in Shake Shack's case, consists of offerings "specifically crafted to complement the flavor profile of a ShackBurger"—Shackmeister brew on tap and Shack Red and Shack White for the oeneophiles. Booze accounts for 3 percent of sales at the company's U.S. stores—not much, but more than zero, which is what most fast-food burger joints claim, and more than the 1 percent of sales that beer and liquor accounted for when Chipotle Mexican Grill went public. 
Supply chain is hard for gourmet burgers. A few years back, the makeup of Shake Shack's beef blend was hotly debated in certain foodie circles. (According to one blogger, they're 50 percent sirloin, 25 percent chuck, and 25 percent brisket.) Shake Shack buys its beef from suppliers in the U.S., the European Union, and Australia and in the name of maintaining brand standards, insists that licensees do the same. That means the company's outpost in Dubai's Mall of the Emirates must keep one to three months' worth of supplies on hand, just in case. (Meyer apparently made an exception for two Russian stores following economic sanctions imposed earlier this year.)
It seems like a decent employer. The company has about 1,680 employees, about 1,450 of whom are paid by the hour "at rates set above, but related to, the applicable minimum wage," according to the filing. In New York, that's $10 an hour. Not everyone qualifies, though: "We look for people who are warm, friendly, motivated, caring, self-aware and intellectually curious team members," the filing says, adding that success at Shake Shack is 51 percent emotional, 49 percent technical. Anyone familiar with Meyer's guide to the service industry, Setting the Table, should not be surprised.
Meyer is still the boss. Meyer and his investors are holding onto voting rights. The IPO is structured so that as long as Meyer controls 10 percent of Shake Shack's shares, he gets final say on certain corporate matters, including firing and hiring a chief executive officer. The company, like its brand, is still very much about the man.