China's Best Internet Stocks of 2014 Poised for More Gain
Belinda Cao and Elena Popina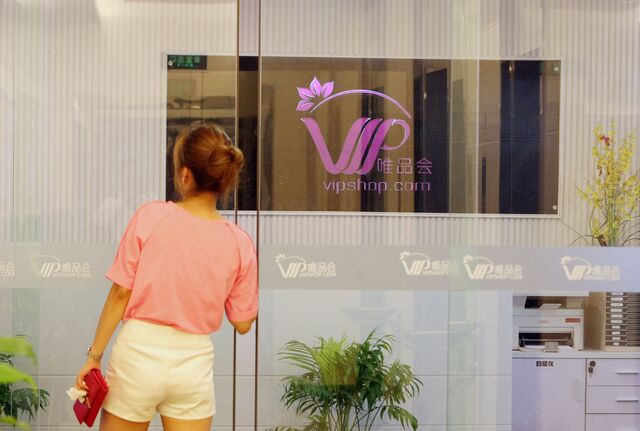 The best-performing Chinese Internet stocks traded in the U.S. are set to extend their rallies in 2015, unfettered by forecasts for slower growth in the world's second-largest economy.
Vipshop Holdings Ltd., an online retailer whose shares have surged 30-fold since its U.S. debut in March 2012, and car-listing website Bitauto Holdings Ltd. may both advance an additional 32 percent in the next 12 months, according to average analyst estimates compiled by Bloomberg. The companies, which doubled this year, have the best performances on the Bloomberg China-US Equity Index since 2012.
While a slowdown in China's economy may cut sales growth, web-based companies such as Vipshop and Bitauto will retain their competitive advantages by maintaining good relations with vendors, capturing popular niches and expanding services, according to Henry Guo at JG Capital. Of 25 analysts covering Vipshop, 20 rate it a buy and just one recommends selling. None of the nine analysts covering Bitauto has a sell.
"Vipshop's competitors, including Alibaba, have platforms where suppliers have to do everything themselves, from making photos of the products to posting them on the website to getting feedback, while Vipshop has almost 1,000 people who do everything for suppliers," Guo said by phone on Dec. 19. "Bitauto is doing a better job than anyone else connecting the offline car dealers with online traffic."
Middle Class
The 12-month consensus price estimates for Vipshop and Bitauto compare with a 14 percent increase projection for Alibaba Group Holding Ltd., China's biggest e-commerce company, by 33 analysts.
"The most favorable Chinese companies to own in 2015 are those companies in the sectors of the economy favored by China's government and the growing middle class," Brendan Ahern, managing director at Krane Fund Advisors LLC in New York, said in an e-mail Dec. 26.
China's 632 million Internet users still represent less than half of the country's population, whose middle class was estimated at 200 million people by Alibaba Chief Executive Officer Jack Ma. Government data indicate the user total could rise to 850 million by 2015.
Chinese online companies are seeking to maintain their pace of growth as the nation faces its slowest expansion since 1990 amid slumping home sales and a credit crunch. Gross domestic product will expand just 7 percent in 2015, down from this year's estimated 7.4 percent, according to a Bloomberg survey of 51 analysts.
Sina, 500.com
While Vipshop's 2014 sales will probably double from the prior year, the rate may slow to 66 percent in 2015, according to the average of 22 analyst estimates collated by Bloomberg. Revenue growth at Bitauto may decline to 39 percent in 2015 from an estimated 56 percent this year.
"The Internet sector will eventually be impacted by the weakness in the macroeconomy," Li Junheng, founder of JL Warren Capital LLC in New York, said by phone Dec. 24. "E-commerce companies will be impacted after people first cut high-end spending such as cars and luxury branded goods." Vipshop's 13 percent slump in the past month is reflective of those concerns, she said.
The companies will also have to tread carefully in an Internet industry that has seen success stories quickly turn bad. Sina Corp., the Web portal operator that soared 95 percent in 2009 and 68 percent last year, has seen its value cut in half this year as its portal advertising business turned unprofitable amid a user shift to other platforms.
Domestic Consumption
500.com Ltd., an online sports lottery service provider, sank 46 percent this year, trimming the total gain since its November 2013 U.S. debut to 48 percent.
Bullish views on both companies are bolstered by data showing that consumption continues to expand in China, spurred by policy makers' emphasis on replacing the country's old export-led growth model with a greater reliance upon the domestic market.
Monthly auto sales have more than tripled since 2008 to 1.8 million units in November, according to official data. Annual per-capita disposable income in Chinese cities almost doubled to 26,955 yuan ($4,395) last year from 2007, data from the National Bureau of Statistics show. China's retail sales may expand 12 percent annually both in 2014 and 2015, according to the median of 11 analyst estimates in a Bloomberg News survey. Government data showed a better-than-projected 11.7 percent growth for November sales.
"Raising domestic consumption is an important initiative," Ahern said. The increase in retail sales "is a leading indicator for Vipshop and e-commerce companies. With 53 vehicles for every 1,000 people compared to 400 and 500 cars per every 1,000 people in Germany and the United States, Bitauto is well positioned to capture a key symbol of one's ascent into the middle class."
Before it's here, it's on the Bloomberg Terminal.
LEARN MORE