What Subprime Auto Lenders Have to Do with the 2016 Democratic Primary
Why Elizabeth Warren's criticism of auto title loans resonates.
By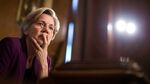 Toward the middle of Elizabeth Warren's 2014 memoir, A Fighting Chance, the Massachusetts senator remembers one of the losses of the fight for a Consumer Finance Protection Bureau. Overall, the story of the CFPB is a triumph–reviewers made a note of Warren's confidence that a well-organized citizen movement could overcome lobbyist pressure, especially if their idea was popular. Yet Warren recounts how Representative Barney Frank was stymied by an industry that jumped into the gap between congressional intent and expertise.