What Subprime Auto Lenders Have to Do with the 2016 Democratic Primary
Why Elizabeth Warren's criticism of auto title loans resonates.
By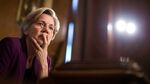 Toward the middle of Elizabeth Warren's 2014 memoir, A Fighting Chance, the Massachusetts senator remembers one of the losses of the fight for a Consumer Finance Protection Bureau. Overall, the story of the CFPB is a triumph–reviewers made a note of Warren's confidence that a well-organized citizen movement could overcome lobbyist pressure, especially if their idea was popular. Yet Warren recounts how Representative Barney Frank was stymied by an industry that jumped into the gap between congressional intent and expertise.
In the final flurry of negotiations that took place that fall, one assault on the consumer agency came on swiftly, and Barney and the consumer advocates couldn't beat it back.  Car dealers wanted their auto loans to be exempt from the agency's oversight.  I immediately remember Jason and how he'd been cheated.  The thought of allowing that to happen again (and again and again) to other people made me want to smash my fist through a wall.  But there were car dealers in every congressional district in the country, and they were riled up about the agency.  Once the car dealers started calling Washington, members of Congress started caving, one after another.  Barney did everything he could to fight them off, but in the end, the car dealers got their way.  
What did that? New York Times readers found out in today's post-Christmas edition, when Jessica Silver-Greenberg and Michael Corkery published a lengthy report on how car title loans became "the home equity loans of subprime auto." The loans, largely unregulated, are sources of perfect horror stories: quick cash followed by steep interest hikes followed by repossession. Efforts to cap the interest rates have been reversed, generally, under Republican control of state legislatures. (New Hampshire's caps, for example, were limited by a Democratic legislature in 2008 but undone four years later by a Tea Party-powered majority.)
The political influence of the loan agencies isn't so obvious. Georgia-based TitleMax gave big to only one 2014 campaign organization–JanPAC, created by outgoing Arizona Governor Jan Brewer. But this NYT piece was flagged by MoveOn's Ben Wikler. MoveOn, of course, is spending much of its energy urging Warren to run for president. Wikler et al have seen what happens when Democrats don't sweat primary challenges. Hillary Clinton ally Terry McAuliffe glided to his 2013 Virginia gubernatorial nomination while accepting support from payday lenders. Four years earlier, in a competitive primary, he'd campaigned against the payday loan industry.
Many of Elizabeth Warren's obsessions are obscure, until she makes them infamous. The people who want her to run for president want to make as many predatory industries as infamous as possible, lest the presumed Democratic frontrunner–Clinton–start feeling free to court them.