Obama: Day to Day, U.S. is Less Racially Divided
The president tells NPR that the current situation following Ferguson and other incidents doesn't reflect the larger picture.
By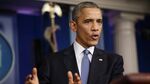 Barack Obama never wanted his race to define his presidency. But if there's one thing he wants even less, it would be a deterioration of race relations during his tenure as president. 
In a year-end interview with NPR, the president said that race relations have improved since his 2009 inauguration. He told "Morning Edition" host Steve Inskeep that the low morale around the country after a wave of racially charged police incidents in Ferguson, Mo., New York, and other cities doesn't reflect the bigger picture, according to an excerpt released Friday by NPR.
"No, I actually think that it's probably in its day-to-day interactions less racially divided," Obama says in the 40-minute interview, conducted on camera for digital video as well as audio release beginning Monday.
While Obama has sought to shape this notion to some degree throughout his presidency, it has taken on a new urgency since the summer, when 18-year-old Michael Brown was fatally shot by a police officer in the St. Louis suburb of Ferguson and Eric Garner died after being put in a chokehold by New York police. Since then, Obama has emphasized his sense that recent events belie the broader arc of progress.
"How we're thinking about race relations right now has been colored by Ferguson, the Garner case in New York, a growing awareness in the broader population of what I think many communities of color have understood for some time, and that is that there are specific instances at least where law enforcement doesn't feel as if it's being applied in a colorblind fashion," Obama said in his year-end news conference Dec. 19.
A task force that is to report to him with recommendations early in the new year will look for how to "rebuild trust between communities of color and the police department," he said.
Obama acknowledged that racial tensions involving law enforcement is not new. "The fact that they're now surfacing, in part because people are able to film what have just been, in the past, stories passed on around a kitchen table, allows people to make their own assessments and evaluations," he said. "And you're not going to solve a problem if it's not being talked about."
In a CNN interview with CNN that aired Dec. 21, Obama told Candy Crowley that "I'm impatient" for racial progress, but that "I think an unwillingness to acknowledge that progress has been made cuts off the possibility of further progress."
"If critics want to suggest that America is inherently and irreducibly racist, then why bother even working on it?" Obama said. "I've seen change in my own life. So has this country. And those who would deny that, I think, actually foreclose the possibility of further progress rather than advancing it."
Some polling suggests Americans may not be as optimistic as the president. A Bloomberg Politics poll of 1,001 adults, conducted Dec. 3-5, 53 percent of Americans said interactions between while and black communities have deteriorated over the course of Obama's presidency.
According to CNN/ORC polling, 52 percent of Americans said in a survey conducted Dec. 18-21 that racial problems in the U.S. between blacks and whites would eventually be worked out, while 46 percent said they'll always be a problem. 
The numbers are almost virtually identical to January 2009, as Obama prepared to take office. At that time, 55 percent of poll respondents thought racial tensions would be worked out, while 45 percent thought they would remain.