Obama: Day to Day, U.S. is Less Racially Divided
The president tells NPR that the current situation following Ferguson and other incidents doesn't reflect the larger picture.
By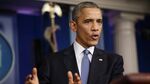 Barack Obama never wanted his race to define his presidency. But if there's one thing he wants even less, it would be a deterioration of race relations during his tenure as president.