Malaysians Teed Off Over Prime Minister's Golf Date With Obama
Razak cuts short his vacation amid criticism for playing while his country suffers from severe floods.
By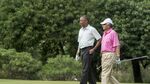 A bad putt was hardly the worst result for Malaysian Prime Minister Najib Razak after he played a round of golf this week with President Barack Obama.

News that Razak had hit the links on Wednesday with Obama in Hawaii didn't sit well with Malaysians coping with massive floods that have forced the evacuation of more than 100,000 people. They swarmed his Facebook page with posts expressing outrage;  "STOP PLAYING GOLF, NAJIB," blared a headline in the Malaysian Chronicle.  

The outcry had impact: After his government first defended his right to a vacation, Razak announced early Friday that he would cut short his break to return home.