Malaysians Teed Off Over Prime Minister's Golf Date With Obama
Razak cuts short his vacation amid criticism for playing while his country suffers from severe floods.
By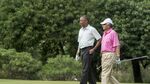 A bad putt was hardly the worst result for Malaysian Prime Minister Najib Razak after he played a round of golf this week with President Barack Obama.

News that Razak had hit the links on Wednesday with Obama in Hawaii didn't sit well with Malaysians coping with massive floods that have forced the evacuation of more than 100,000 people. They swarmed his Facebook page with posts expressing outrage;  "STOP PLAYING GOLF, NAJIB," blared a headline in the Malaysian Chronicle.  

The outcry had impact: After his government first defended his right to a vacation, Razak announced early Friday that he would cut short his break to return home.
The two world leaders met up to play a round with Obama aides Joe Paulsen and Mike Brush after they found themselves vacationing in Hawaii at the same time.  Reporters were allowed on the course to observe at the 18th hole, according to a White House pool report. Razak's putt came up short, prompting Obama to console him with a pat on the shoulder.  
Obama also took some heat for the outing, at least in conservative media. "Imagine the outcry if a Republican president played a round of golf with the leader of a nation that terrorizes homosexuals, oppresses women and supports terrorist organizations. It would be the lead story in every major news outlet," Sidney Franes, a former NYPD detective and member of a U.S. Marine intelligence unit,  told the Washington Examiner.
The White House's official statement on the matter? "The two leaders took the opportunity to discuss the growing and warming relationship between the United States and Malaysia."
This isn't the first time the president, an avid player nicknamed the "First Golfer" by Golf Digest, has come under criticism for his hobby. His decision to head directly from a brief press statement about the beheading of journalist James Foley to the course prompted an outcry last August during his summer vacation on Martha's Vineyard. "I should have anticipated the optics," he said a few weeks later in an interview on NBC.  "Part of this job is also the theater of it."