Jeb Bush's Emails Are Available Online
The files were posted Friday by American Bridge PAC.
By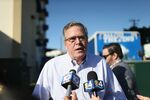 Those interested in a closer look at Jeb Bush's two terms as Florida governor from 1999 to 2007 can now scan thousands of emails posted by American Bridge, an opposition research group and political action committee that focuses on Republicans. The group said it obtained the correspondence through a Freedom of Information Act request with the Florida Department of State.