Yen Bears Look for New Year History to Repeat: Chart of the Day
Andrea Wong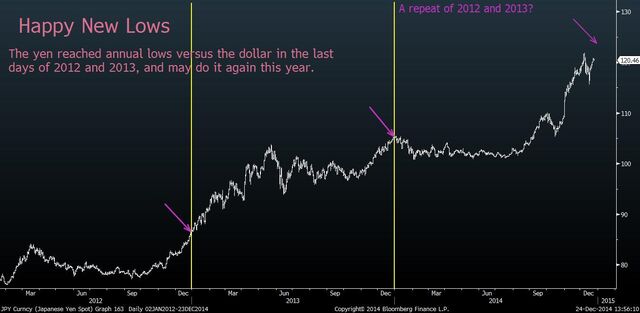 Investors still bullish on the yen versus the dollar may not see any relief from this year's 13 percent plunge until revelers are done counting down the seconds to midnight on New Year's Eve.
The CHART OF THE DAY shows Japan's currency reaching lows for the year against the dollar on the last and second-last day of the year in 2012 and 2013. Investors appear intent on making it three years in a row in 2014, weakening the yen more than 4 percent since it reached a one-month high on Dec. 16. At 120.46 per dollar, it is within 1.1 percent of 121.85, the 2014 low touched on Dec. 8.
"Dollar-yen closed at the highs of the year both 2012 and 2013, many are expecting to see it close at the highs again this year," said Masafumi Takada, a New York-based director at BNP Paribas SA. "As in the old Japanese saying, 'never twice without three times.'"
Investors have had good reason to sell the yen for the dollar in the past three years. Shinzo Abe was installed as prime minister in December 2012 on calls for unlimited monetary stimulus to support the economy. As 2013 ended, the U.S. Federal Reserve was getting closer to scaling back its bond-buying program. And this year the Fed is weighing when to raise interest rates for the first time since 2006.
The dollar-yen pair reaching annual highs in the last days of the year isn't the historical norm. The last time it happened before 2012 was 2001, when the dollar reached 132.08 yen on Dec. 27 on the way a month later to 135.15 yen, a level untouched since.
Before it's here, it's on the Bloomberg Terminal.
LEARN MORE