Why Indie Movie Houses Are Showing The Interview
Artistic freedom overcomes any concerns about quality or commercial success, a theater owner says.
By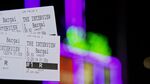 Often regarded as the quirky, elitist, and irrelevant sideshow of U.S. cinema, independent movie houses stepped up this week to help save Christmas for hacking-beleaguered Sony Pictures and the principle of free expression.  Even before Sony announced that The Interview would be released online Wednesday, some 200 small theaters had made plans to screen the satirical comedy about a plot to kill North Korean leader Kim Jong Un.
The plan emerged last week when Russ Collins, the 58-year-old head of the Michigan Theater Foundation in Ann Arbor, Mich., floated ideas via a closed Google group about how indie theater owners could offer their support to Sony, which had killed the film's release following a cyber-attack and threats to the theaters that planned to show it. The group exists to put on an annual conference each January in Utah during the Sundance Film Festival known as the Art House Convergence, of which Collins is also the director. The group launched a petition and Collins sent a letter to Sony executives offering their venues.  
Collins plans to screen The Interview for at least a week starting Thursday to a 280-seat room at the State Theater, a splendorous 72-year-old movie house a block north of the heart of the University of Michigan campus.  It is "probably not a film we'd normally show," he told Bloomberg Politics contributor Steve Friess, "but this is about artistic freedom now." Here's an edited version of their conversation: 
Q: So how did it happen that you're in the middle of an international drama like this?
A: On Friday, I wrote a post on our Google group about my feelings of what was happening to Sony and saying, "We know they've been through a really hard time and please know that as independent cinemas, if it might be helpful and if Sony decides that they wanted to produce the film that we might be willing to do that." We are small potatoes in the world of cinema exhibition, so we knew we wouldn't have any financial impact, but we felt we had a powerful statement to make. The post was well received and our members wanted to it posted on the website so they could point other people to it. Then we started to get feedback from media and some of our contacts spoke with Sony. I drafted the petition and this whole thing just took off.
Q: Is this a movie you'd ever present under normal circumstances?
A:  No, probably not. We're bumping The Theory of Everything and The Homesman for this, but it's just about more than the movie itself.
Q: Does it even matter if The Interview is any good?
A: It really doesn't anymore. Art-house cinemas show all kinds of films for all kinds of reasons. In this particular case, it was a matter of defending something that is very dear to everybody in the artistic world.
Q: Is this an opportunity for you to boost your visibility?
A:  Yeah, the public and the media think of the motion picture world as a monolith, and this situation shows the differences. Independent theaters only have to make decisions for their immediate locales. The Michigan Theater Foundation runs two theaters that are half a block apart. Our decision is much simpler than the multiplexes that deal with different states and different cities and different environment and so many levels.
Q: How is the health of the independent cinema movement today? It used to be you could only see that weird foreign film or that documentary at an art-house theater, but now people can stream it. Does that hurt you?
A: Actually, that has all created a much more literate, more diverse film consumer. Whether it's streaming or renting movies, watching entertainment on a screen at home hasn't changed that much and the people who love seeing movies that way also tend to come out to the theater, too. We're doing pretty well, actually.
Q:  Are you worried about the safety of your patrons when you screen The Interview? Do you think there is any actual risk, given that there were threats that scared off the multiplex chains?
A:  We certainly are consulting with the local law enforcement agencies, and if they receive what they feel are credible threats we will consider them. I do not believe that Ann Arbor, Mich., is going to be particularly vulnerable but you never know. If we are encouraged or instructed to take unusual steps in terms of security, that's what we will do.  
Q: Do you think the movie will do well?
A: It looks like about 200 to 300 theaters are going to exhibit it, so that's about 10 percent of what it was supposed to be if there hadn't been this attack.  It's hard to say.
Q: But will you fill your theater?
A: Well, there has been so much publicity about this movie in a very unusual way, so I think it will have an initial fascination. People feel like it's in the news, so they should go to check it out.  Will it be popular in the long run? That is not something I have any influence over. The merits of the film will establish what its place in the market or place in cinema history is. The likelihood that it is going to be the Citizen Kane of stoner movies is remote.
Q: How are ticket sales so far?
A:  Actually, we are a little primitive that way. We only sell tickets at the door.
Q:  Oh, that is so nice.  What would you say if you could talk to the leader in North Korea?
A: I guess I would say I certainly understand that this film is upsetting, but  America is a very free and open society and we frequently make fun of our political leaders. This is something that Americans and America's political leaders take in stride. But I certainly can understand that this may be more offensive to you in your context.
Q:  That is really diplomatic.
A:  It is a big world, with lot of different points of view. I don't think people in United States would be too thrilled if a Brazilian filmmaker, say, made a movie in which the current American president is assassinated, even if it's supposed to be a funny film.         
Q: Would you screen a foreign film about the assassination of an American president if it was good?
A: I am sure it would get high consideration for screening. 
Q:  Do you feel like you have to be at the theater on Christmas Day now because of this?
A:  I would love to be at the theater, but I am actually leaving on a plane on Christmas Day to spend Christmas with our daughter in London.
Q: So you could be on that plane at the time that the State Theater gets taken down by North Korean hackers!
A:  Sure, that is the remote possibility, and I would look forward to reading about it or hearing about it on the BBC.