Why Indie Movie Houses Are Showing The Interview
Artistic freedom overcomes any concerns about quality or commercial success, a theater owner says.
By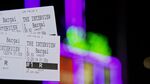 Often regarded as the quirky, elitist, and irrelevant sideshow of U.S. cinema, independent movie houses stepped up this week to help save Christmas for hacking-beleaguered Sony Pictures and the principle of free expression.  Even before Sony announced that The Interview would be released online Wednesday, some 200 small theaters had made plans to screen the satirical comedy about a plot to kill North Korean leader Kim Jong Un.