Takata Scion Reclaims President Role Amid Air-Bag Crisis
Ma Jie and Masatsugu Horie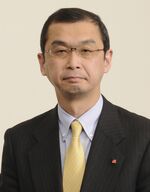 Takata Corp. Chairman Shigehisa Takada will replace Swiss national Stefan Stocker as president, 18 months after appointing him to strengthen management amid a mounting recall crisis involving its faulty air bags.
Takada, who with his mother controls the Tokyo-based auto-parts supplier through a family holding company, will also take a 50 percent pay cut for four months, the company said in a statement yesterday. Stocker, who turns 61 today, asked to step down from his position, said Hideyuki Matsumoto, a spokesman for the company.
"This move does nothing to quell their customer's dissatisfaction, appease the regulatory bodies in the U.S. or Japan nor aid their massive campaign to build replacement inflator kits," said Scott Upham, an analyst at Valient Market Research who has followed air bags since they were first going into cars a quarter-century ago. "Stocker was never given full responsibility for the management of the company, so his role was more symbolic than functional."
Takata's air bags have been linked to five deaths after faulty devices exploded with too much force and spewed metal at passengers. Automakers led by Honda Motor Co., its biggest customer, have issued recalls for more than 20 million vehicles globally, even as Takata resisted the U.S. National Highway Traffic Safety Administration's demand to expand the safety campaign nationally beyond high-humidity areas.
Takata rose 1.9 percent to close at 1,351 yen in Tokyo trading. The shares have declined 55 percent this year, compared with the 9.1 percent gain in the benchmark Topix Index.
Pay Cut
As part of the reorganization, three other directors will also take a 20 percent pay cut, Takata said. Stocker, who will continue as an executive director and remain on the board, will take a 30 percent reduction.
Takada earned 278 million yen ($2.3 million) last year in compensation and dividends, exceeding the 152 million yen made by Honda President Takanobu Ito.
Stocker joined Takata as an executive officer in February 2013. He began his career at Robert Bosch GmbH in June 1982. At the time of his appointment as president, Takata said the move was part of plans to strengthen the operational structure of the company, which was then facing increasing recalls by its key customer Honda to replace faulty air-bag inflators.
'Valuable Skills'
"Stefan brings valuable skills and experience to the table," Takada said about Stocker's appointment in his chairman's message in the 2013 annual report. "We will be working closely together to increase the pace and success of Takata's globalization," he wrote. "By delineating responsibilities as CEO and COO, we will be able to give greater and more coordinated attention to strategy and implementation."
Stocker has declined multiple requests for interviews, as has Takada. Both executives didn't attend the U.S. congressional committee hearings held to probe the responses by the supplier and its automaker customers to the escalating recall crisis.
They instead sent Hiroshi Shimizu, a senior vice president in charge of quality assurance, to explain to the committee the steps the company was taking to ensure its products were safe.
Shigehisa and his mother, Akiko Takada, are board members of TKJ, which holds about 52 percent of Takata. They also own individual stakes totaling about 5 percent, according to data compiled by Bloomberg.
Takata hired public relations firm Sard Verbinnen & Co. earlier this month to help it communicate with U.S. regulators.
"It's usually not a good sign when the main person in charge of representing the company in front of the regulators suddenly" steps down without explanation, said Nicholas Benes, head of The Board Director Training Institute of Japan. "Markets and regulators will wonder what is really going on behind the scenes."
Before it's here, it's on the Bloomberg Terminal.
LEARN MORE