Christmas Lockdown Feels Too Familiar to Ebola Pioneer
Natasha Khan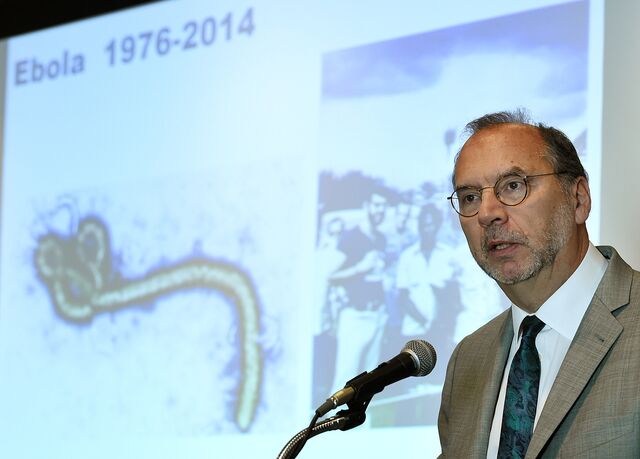 There must be better ways to fight Ebola than calling off Christmas.
That thought keeps scientist Peter Piot awake at night. Piot, who was part of the team that discovered the virus four decades ago, was struck by how little the anti-Ebola arsenal had changed when he visited Sierra Leone last week. The government there banned year-end festivities to limit contagion.
"This is similar to the first outbreak I worked on in Zaire," Piot said in an interview from his home in London. "The difference is the scale. It reminded me that we've basically made no progress since 1976 in terms of control measures, treatments and vaccines."
Piot says his weeklong trip to Freetown and Port Loko served to highlight the scientific community's failure to produce Ebola treatments and strengthen his resolve to remedy that as a head of the World Health Organization task force which brings together competing factions from the public, private and academic sectors to develop drugs and vaccines.
The 65-year-old Belgian scientist has over four decades of experience battling viruses. He's promoted condoms to stuffy crowds, pressured the world's biggest drugmakers to slash prices and explained the AIDS epidemic to Fidel Castro.
"Peter brings enormous credibility to the table," said Julio Frenk, the dean of Harvard University's School of Public Health. "He brings the capacity to focus the attention on the issue: to contain the current outbreak, to help the affected countries and to learn the lessons so we're prepared for future outbreaks."
Kentucky Bourbon
Ebola entered Piot's life in 1976 in a thermos flask, "shiny and blue." It contained the clotted blood of a Flemish nun ill with a disease no one could identify, and was sent to the microbiology lab in Antwerp, Belgium, where Piot was in training.
After the sample was identified as a hemorrhagic fever virus, an international medical delegation that included a 27-year-old Piot was sent to what is now the Democratic Republic of the Congo to investigate. The team went from door to door, interviewed nuns, inspected hospitals, and eventually pieced together the virus's path.
One night, Piot was drinking Kentucky bourbon with three other scientists. Karl Johnson, a U.S. representative, decided it was time to give the virus a name. Wanting to avoid stigmatizing the village, they decided to name it after a river. Ebola, or "black river," seemed apt.
Asking Questions
In a television interview in early July, as Ebola tore through Guinea and Liberia unchecked, he was among the first to question why the WHO hadn't yet declared a state of emergency. A month later, still frustrated with the lethargic international response, he penned a strongly worded editorial for the Wall Street Journal with two colleagues, calling on the agency to allow experimental treatments in affected countries.
Two days later, the WHO declared Ebola a state of emergency and convened a panel of medical ethicists to explore the use of experimental treatments. In October, it enlisted Piot to lead a science committee that would coordinate drug and vaccine research efforts.
"He doesn't hold back about what he feels," said Bernhard Schwartlander, the WHO representative in China, who has worked with Piot for more than two decades. "It sometimes can be uncomfortable, it sometimes may even seem to go too far, but it changes the debate and that is important."
No Touching
When he's not working on Ebola, Piot's day job is to run the London School of Hygiene and Tropical Medicine, where he's trying to raise funds for an infectious-disease institute to research new antibiotics, vaccines and medicines. Piot and his wife, the anthropologist Heidi Larson, returned on Monday from a trip to Sierra Leone, which this month surpassed Liberia as the country with the worst Ebola death toll.
Sierra Leone's president last week prohibited public gatherings, holiday festivities, and beach parties this year at Christmas and New Year around Freetown, the capital. People attending Christmas Mass must head home immediately after the service.
"The situation is still bad," Piot said. "What is striking is these small things -- nobody shakes hands anymore. In a culture that is very tactile, that's over."
Piot can draw on his experience with AIDS to lead the WHO's science committee on Ebola, Kofi Annan, the former United Nations Secretary General, said in an e-mail. As the founding leader of UNAIDS, Piot led the early charge to have the virus recognized as an international threat, as a danger to heterosexuals (not just gay men) and to get drugmakers to sell their medicines in Africa at a discount.
In Piot's mind, there is no question that Ebola will still be here next year.
"We need to sustain the effort," he said. "This epidemic is only over when the last patient is dead or cured without infecting anyone else."
Before it's here, it's on the Bloomberg Terminal.
LEARN MORE