China Eclipses Warren Buffett With Rail Rally: Chart of the Day
Bloomberg News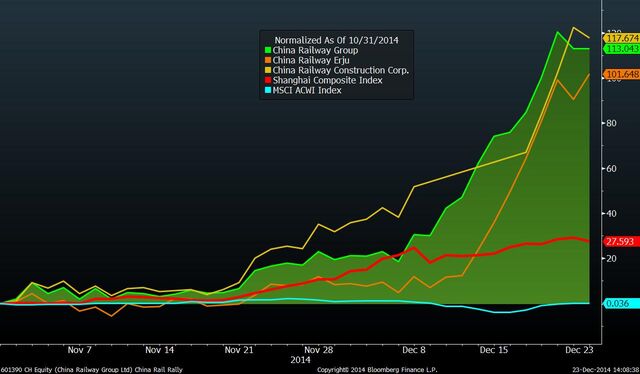 China has expanded on the investment strategy of the world's two richest men by betting on global railway networks. As a result, railroad stocks have led the nation's world-beating equities rally this month.
The CHART OF THE DAY compares China Railway Group Ltd., China Railway Erju Co. and China Railway Construction Corp. shares since November with the Shanghai Composite Index and Morgan Stanley's gauge of emerging and developed markets. The three Chinese companies each about doubled as Prime Minister Li Keqiang signed agreements to ply transport Chinese technology across Europe, Southeast Asia and Africa.
"Investors see the transformation potential of Chinese railway companies," said Jenny Zhen, Hong Kong-based industrial chief analyst at Haitong International Securities Co. "They used to worry about these companies' long-term performances if China's domestic market saturates, but now the government is aiding overseas expansions."
Warren Buffett played the rail chip during the depths of the global financial crisis in 2009 when Berkshire Hathaway Inc. paid $26.5 billion to buy BNSF Railway Co. Berkshire is on pace to see all the cash it spent taking the company private returned by the end of this year. Bill Gates, Buffett's bridge partner, is Canadian National Railway Co.'s largest shareholder through Cascade Investment LLC, data compiled by Bloomberg show.
Li was in Thailand last week to sign agreements to build a rail line connecting the Southeast Asian nation's rural northeast with Bangkok and another to a seaport in the east. The projects will cost about $10.6 billion, according to the People's Daily. Li signed a pact with Serbia and Hungary a few days earlier for a high-speed link between Belgrade and Budapest -- another piece in China's effort to lead the upgrade of the network that connects Greece to central Europe.
Last month, deals between Chinese rail developers were signed with Nigeria and Mexico, although the latter pact was soon canceled due to suspected corruption on the Mexican side.
As part of China's railroad diplomacy, its two biggest trainmakers, China CNR Corp. and CSR Corp., sought approval on Dec. 3 for a plan to combine their businesses, the official Xinhua News Agency reported. Meanwhile, China Railway Construction last week unveiled a $1.6 billion share sale plan.
— With assistance by Yuling Yang
Before it's here, it's on the Bloomberg Terminal.
LEARN MORE