Arizona Sheriff Loses Bid to Block Obama on Immigration
Andrew Zajac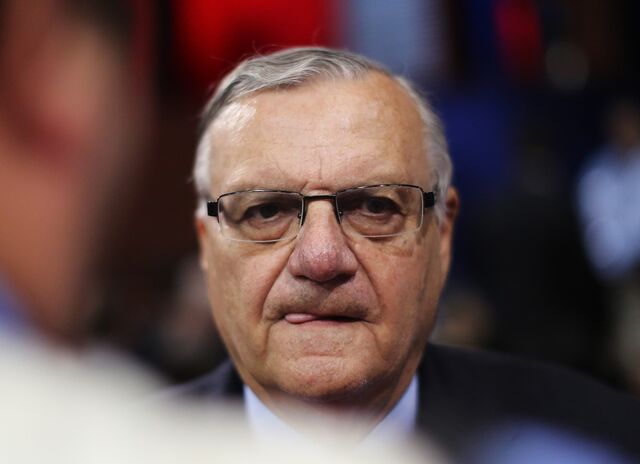 Arizona sheriff Joe Arpaio's bid to block President Barack Obama's immigration policy was thrown out because he hadn't shown it would harm his county, leaving the challenge to state attorneys general in a weightier lawsuit.
Arpaio's challenge to Obama's Nov. 20 executive order is the first of two to be decided by a judge. A lawsuit filed by Texas Republican Attorney General Greg Abbott, who won the Nov. 4 governor's race, is set for a hearing Jan. 9 in federal court in Brownsville, Texas. That case is backed by 24 states, including Arizona.
Arpaio, sheriff in Maricopa County which includes Phoenix, sued last month to block Obama's order, which temporarily removes the threat of deportation for as many as 5 million undocumented immigrants.
U.S. District Judge Beryl Howell in Washington said in court Monday that deferred-removal programs such as those Obama announced have been around since the 1970s and that much of Arpaio's suit was a sweeping attack on administration policy, not a complaint focused on specific legal grievances. In her ruling Tuesday, Howell said Arpaio couldn't show that he would be harmed by the policy, either as the sheriff or a citizen, and he therefore lacked the right to bring the lawsuit.
The White House said in a statement that the ruling confirms that the president's actions were legal.
"The Supreme Court and Congress have made clear that federal officials can set priorities in enforcing our immigration laws, and the actions announced by the President are consistent with those taken by administrations of both parties for the last half century," Eric Schultz, an Obama spokesman, said in an e-mailed statement.
Crime Claims
Arpaio filed a notice in court that he will appeal the ruling. He claims he would be harmed by the new policies because more illegal immigrants who his department arrested for criminal conduct would be protected from deportation and would remain in Maricopa County to commit more crimes.
Kathleen Hartnett, a lawyer for the government, disagreed in court, telling Howell the new policies allow for deportation if someone is convicted of a "significant crime."
"The status is revocable at any time," Hartnett said. Further, she said, "this does not provide legal status or a pathway to citizenship."
Arpaio, first elected sheriff in 1993, sued Nov. 20, the same day Obama, a Democrat, announced the new immigration policy. Obama's unilateral action triggered a showdown with Republicans who take control of the Senate in January.
Lightning Rod
The 82-year-old Arpaio, who styles himself as "America's toughest sheriff," has been a lightning rod for immigration reform advocates because of his aggressive tactics toward people suspected of being undocumented immigrants. His office has been overseen by a monitor since October 2013, after Arpaio was found by a federal judge in Arizona to have violated the civil rights of Latinos.
In April, U.S. District Judge G. Murray Snow ordered the sheriff to provide his deputies with a summary of the court order forbidding the department from using race or Latino ancestry as a reason to stop a vehicle or detaining Latino drivers and passengers only on the suspicion they are undocumented immigrants. The U.S. Justice Department accused Arpaio and the county in a separate lawsuit of systematically discriminating against Latinos.
Pink Underwear
Arpaio has attracted attention for other actions, including requiring prisoners to wear pink underwear and investigating the authenticity of Obama's birth certificate.
In the immigration case in Washington, Arpaio teamed up with lawyer Larry Klayman, the founder of the advocacy groups Judicial Watch and Freedom Watch. Last December, Klayman, a frequent litigator on issues over the authority of the executive branch and other topics, won a court ruling that the National Security Agency's telephone data surveillance program is probably illegal. A decision on the government's appeal is pending.
The case is Arpaio v. Obama, 14-cv-01966, U.S. District Court, District of Columbia (Washington). The states' case is Texas v. U.S., 1:14-00254, U.S. District Court, Southern District of Texas (Brownsville).
Before it's here, it's on the Bloomberg Terminal.
LEARN MORE