A Boffo GDP Report—the Fastest Growth in 11 Years
By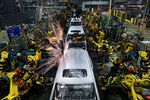 Cheap gasoline. More jobs. Rising confidence. Everything's coming up roses for U.S. consumers, whose spending fueled the strongest growth since 2003. The gross domestic product grew at an annual rate of 5.0 percent in the July-September quarter, according to the third estimate of growth, released on Tuesday by the Bureau of Economic Analysis.
The GDP report and other economic data led economists to raise their estimates for the end of 2014 and 2015. "The clear strengthening in activity towards the end of 2014 may prompt some Fed officials to consider whether they need to raise rates before the middle of 2015," Paul Dales, a senior U.S. economist for Capital Economics, wrote in a client note.
Bloomberg's Consumer Comfort Index, a weekly pulse-taking, hit its highest level since before the 2007-09 recession in the second week of December, it was announced this week. In today's GDP report, the pace of consumption growth was revised upward a full percentage point, to 3.2 percent. In a separate report, the government said inflation-adjusted personal spending rose faster than expected in November, pointing toward the possibility that consumption spending could rise even faster in the fourth quarter—possibly 4 percent annualized, Dales wrote. (Economists' revised estimates for fourth-quarter GDP growth are in the range of 3 percent.)
The news today wasn't all good, though. While business investment was strong in the third quarter, a report issued on Tuesday of decline in business orders for durable goods in November indicated that businesses aren't as enthusiastic as consumers are. "Today's U.S. reports exacerbated the dichotomy between improving consumer prospects but a downgraded factory and mining outlook in the face of plunging oil prices," Action Economics wrote in an analysis of the data.
Consumers' good mood wasn't reflected in the real estate market, in which sales of new homes dropped by 1.6 percent in November from October, possibly affected by harsh weather for house shopping. That followed Monday's report of a 6.1 percent monthly decline in existing home sales in November.
The plunge in oil prices reduces the amount of money Americans spend on gasoline, which by itself is a negative for the GDP. But consumers aren't putting their gas savings in the bank. The savings rate, rather than rising, dipped to 4.7 percent in the third quarter, from 5.1 percent in the second. The money that would have been spent on gasoline was apparently spent on other things, buoying personal consumption.
Before it's here, it's on the Bloomberg Terminal.
LEARN MORE