Six Cushy Men's Slippers That Actually Look Good
By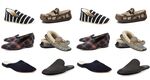 Confession: I have never actually bought a pair of slippers. For myself, I mean.
You see, I have this bad habit of "borrowing" whatever pair is at the foot of my significant other's side of the bed. I'm not picky (although I prefer shearling-lined), I just want to wear whatever is his. He finds this adorable, usually. Until a winter storm warning sees him working from home and when he goes find them to bundle up, he instead finds me casually wearing them while doing the Tracy Anderson Method in the living room. It's then he gets territorial and reclaims ownership over his beloved sheepskin moccasins, along with a promise to "buy me my own (expletive) pair." Apparently he's not a proponent of joint custody, or maybe the Tracy Anderson Method (although, he should be).
Either way, I decided it was time to add slippers to my own holiday wish list. And as a thank you for years of unselfishly sacrificing his own foot warmth for mine, I figured I would upgrade the S.O.'s as well.
So in the spirit of sharing, here are my favorite men's slippers in the market now. They're perfect for the comfort-minded gent on your list -- you might want to get on that, like yesterday -- or perhaps as a little post-holiday treat for yourself.
All have my seal of approval. Meaning: I'd totally "borrow" any of these.
Derek Rose Shearling Scuff Suede Slippers


If Folgers Coffee ever calls and asks you to be in one of their "home for the holidays" commercials absolutely wear these. They're also good if you're just looking for a handsome, non-skid house shoe. ($185, saksfifthavenue.com)
UGG Australia Ascot Camo Slippers

To hibernate in style, choose camo-printed calf hair. ($145, uggaustralia.com)

Brooks Brothers Tartan Wool Slippers


These slips are practically made for roasting chestnuts by an open fire -- in a leather club chair, of course. ($248, brooksbrothers.com)
Armor-Lux French Wool Slippers


Donning a maritime-influenced Breton stripe may just remind you of warmer days ahead. ($85, jcrew.com)
Polo Ralph Lauren Wool-Shearling Plaid Slippers


Just add flannel pajamas, and a whiskey neat, to these plaid pups. ($145, ralphlauren.com)
Bottega Veneta Woven Leather Slippers

A tasteful and risk-free way to try out that slide shoes trend in your home office before breaking them out in your corner one. ($530, neimanmarcus.com)

Nic Screws is the style director for Bloomberg. She admits her husband never threw expletives at her when caught wearing his slippers -- that part of this narrative was fictionalized for dramatic effect. Follow her on Twitter and Instagram.
Before it's here, it's on the Bloomberg Terminal.
LEARN MORE