Review: Upland Offers Stylish Cal-Ital Comfort in Flatiron
By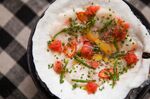 This year has been a bit crap, but it's nearly over, and meanwhile dinner in a warm, glowing dining room like Upland's can be a fine distraction. The restaurant is located just off Manhattan's Park Avenue at 26th Street, but named for a city east of Los Angeles, thousands of feet up in the San Gabriel Mountains, where the chef, Justin Smillie, was born.

For all its Cal-Ital marketing efforts though, it has the unmistakable feeling of a New York dining room. Look, there is Salman Rushdie in a booth, and beside him a group of fashion editors coming down hard on a plate of beef tartare. All around, there are loud, wine-fueled power dinners interrupted by long, luxurious smoke breaks.

Smillie's food is very good, generously portioned, shaggy and effortless. A giant, thickety hen of the woods, for example, is fried in olive oil and served whole. This way it looks less like a mushroom and more like a pompom belonging to some tenaciously cheerful woodland creature. That is to say, it's delightful, and delicious with a squeeze of lemon, swiped through some very soft goat cheese.

Many of the pastas at Upland are made in house -- don't miss Smillie's particularly delicious estrella in a creamy melt of chicken liver and sherry, chopped herbs and shallots, all of it coating every ridge of the long, tubular stars. The dish sounds plain and simple, but it also harnesses the comforting powers of chicken liver, which should never be underestimated.

At Upland things are on the bone whenever they can be -- whole branzino, crisp confit duck wings smudged with yuzu kosho, beef ribs served almost as they would be at a smokehouse, under a crust of spices, but with raw grated horseradish, ribbons of celery, and big green olives. It's joyful and satisfying, and very nearly the same as the rib that Smillie used to serve at Il Buco Alimentari e Vineria, the Italian restaurant on Great Jones where he cooked until June.

Upland is a very good-looking restaurant, too. It has green leather banquettes and gleaming copper fixtures (though with a fairly ridiculous quantity of jarred preserved lemons lining the walls). Serving dinner only for now, it's packed and noisy, with waiters weaving around in blue checked aprons, enunciating words like nduja correctly. The rowdiest table on a recent evening was a group of middle-aged white men who appeared to be celebrating someone's divorce. Near the end of the night one wobbled around, eyes shining, waving an unlit cigarette in his hand, desperate to get the attention of the entire dining room so he could make some kind of passionate announcement. But when Upland is full, and it usually is, it's way too noisy for that sort of thing.
Despite this kerfuffle, a bit of smoked cabbage stole the show for me when it arrived with the sea trout, whiffing of a campfire at the end of the night, the outer layer crackling like chicken skin and the inside melting and sweet. Like many of Upland's best dishes, it was rich and deeply flavored, without carrying any unnecessary weight.


Smillie's Caesar salad is particularly stunning, a colorful pile of puntarelle, kale, and speckled heirloom lettuces dressed in a sharp anchovy and lemon dressing, everything delicately fishy and bitter and fresh. When you go here in January, to repent for holiday overeating, it is the dish to get -- lean, but deeply satisfying, smacking with so much flavor so you might not even notice the egg yolk and cheese are MIA.

The piglet, cooked so the meat is tender and the skin is firm and sticky as hard candy, comes with longs slices of Jimmy Nardello peppers. The chili was named for a farmer, not a school bully, but it did some serious damage to my dining companion who panted and gulped water like he'd lost a dare at a ghost pepper convention. It's generally mild and sweet and even floral, but this particular pepper had the wallop of something much stronger. Proceed with caution.

Service is cool and professional, but there were occasionally long, excruciating gaps between courses, with no one coming over to reassure us that our food was on its way. And on one occasion, the rib wasn't seasoned quite enough, and I wished for a pile of crunchy salt to season it as we ate.

Desserts are good, but chances are with portions like this you'll be too full to finish Leigh Friend's fat slice of walnut pie which is monstrously big but very good, with crisp pastry and a firm filling that isn't overly sweet. It comes with a lovely chicory ice cream (and the salted brown sugar ice cream, available a la carte, is also fantastic) though I preferred Friend's more elegant desserts, like a barely sweet pomelo salad, and a pumpkin custard with candied pumpkin seeds, a cloud of cake, and a tangy ginger ice cream. This one came at the end of a big meal and it was light and tart, with all the sweetness of a well constructed breakfast bowl, promising a good day ahead.
Tejal Rao is the New York food critic for Bloomberg. Follow her on Twitter @tejalrao and Instagram @tejalra or email her at trao9@bloomberg.net

Upland is at 345 Park Avenue South; +1 212 686-1006 or uplandnyc.com

Rating: 2/4 Stars (Very Good)


What to Order: Nduja pizza ($19); Five lettuce Caesar ($14); Estrella with chicken liver ($16); Japanese mackerel ($16); Salt-cured foie gras ($18); Roasted lamb ($36)


Need to Know: Upland serves the full menu at bar. It's not ideally suited for a long, cozy dinner, but it's perfect if you want to pop in without a reservation for, say, a glass of wine and a couple of plates.


Soundtrack: Faintly, behind the din of the room, a bit of Fine Young Cannibals and Neil Diamond.

Before it's here, it's on the Bloomberg Terminal.
LEARN MORE