Rand Paul's Star-Studded Festivus Celebration
The Kentucky senator ends the year with a tradition.
By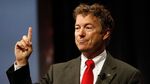 The day before Christmas Eve, in 2013, Kentucky Senator Rand Paul issued a series of tweets celebrating Festivus, the "airing of grievances" holiday invented on an episode of Seinfeld. Paul's culture-jamming was so popular–1,000 retweets for his first joke–that he repeated the gag on Tuesday.