politics
Democrats Salivate over Grimm's Guilty Plea
Is "Mikey Suits" ready to make good on his campaign promises?
By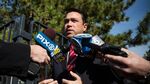 The end seems to be near for New York Representative Michael Grimm.
Hours before the Staten Island Republican entered a guilty plea for tax evasion in a Brooklyn courtroom, Democrats began the call for his resignation, with House Minority Leader Nancy Pelosi leading the way.  "Now that the election is over, Congressman Grimm is finally admitting the truth to his constituents," she said in a statement.  "Clearly, Speaker Boehner must insist that Congressman Grimm resign immediately."
That might take a while.  "We won't have any announcements until the Speaker discusses the matter with Mr. Grimm," spokesman Michael Steel told Bloomberg News. 
The former FBI agent with the nickname "Mikey Suits" has enjoyed an unusual, albeit short, tenure in Congress. In April, prosecutors indicted Grimm on 20 counts related to operations at his Upper East Side restaurant, Healthalicious. Those charges follow an account that Grimm pulled a gun after making racially charged statements in a New York nightclub. More recently, the New York Post reported that Grimm spent 17 minutes in the bathroom of a Brooklyn wine bar with a "comely gal pal." 
"This never happened, and I will not dignify this absurd distortion of the facts with a response, except to to say that this is nothing more than a typical Democrat-led smear campaign," the congressman said in a statement to the Post.

Let's not forget about the incident last January, when Grimm threatened to throw a NY1 reporter off a balcony after questions about his alleged campaign finance violations. "I'll break you in half," Grimm could be heard saying, in footage broadcast by the network.

If Grimm resigns, Republicans could easily lose his seat. His district, encompassing all of Staten Island and a small sliver of Brooklyn, leans just slightly Republican–though Democrats have struggled to recruit strong candidates to run. (In Grimm's final campaign debate, neither candidate could name the last book they read.) While a single seat would hardly impact the balance of power in the House, a special election could give Democrats a little political boost after their brutal campaign shellacking this past fall. Already, Democrats are positioning themselves for the potential race to come. 
"It's past time for Michael Grimm to go and it's John Boehner's responsibility to make it happen," said Josh Schwerin, spokesman for the Democratic Congressional Campaign Committee."After Speaker Boehner abbetted Grimm's lies to voters about his guilt in this past election, he owes it to the constituents and the Congress to make sure Michael Grimm doesn't serve in this next Congress." 
So far, Boehner and the rest of the GOP leadership have remained quiet about Grimm's fate. But, that seems likely to change once Grimm officially pleads guilty. 

As Politico notes:
Under (Boehner's) leadership, former Rep. Chris Lee (R-N.Y.) was forced to resign after it was discovered that Lee used his downtime at a GOP legislative retreat to send partially clad photos of himself to a woman he met online. Boehner pushed former Indiana Rep. Mark Souder to resign when it came out that the congressman was having an affair with an aide. Alaska Rep. Don Young was made to give up a top committee slot when he faced a criminal probe. When Democratic Rep. Charles Rangel of New York was under investigation for evading taxes, Boehner called on him to relinquish the chairmanship of the powerful Ways and Means Committee.
Grimm seemed to predict his fate this fall. His unorthodox sales pitch to voters: Elect me, get better choices next spring. 
"If things don't go my way, right, and I had to step down in January, then there will be a special election, and at least the people of Staten Island and Brooklyn can then have qualified candidates to choose from," he told the radio talk-show host Geraldo Rivera in October.  
(Updates previous version of this story.)
Before it's here, it's on the Bloomberg Terminal.
LEARN MORE