Judge Quashes Overtime Rights For Home Care Workers
By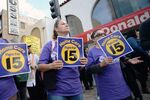 Since 1938, when Congress first required companies to pay their employees minimum wage and overtime, many home care workers have been left out of those protections. A year ago, the Obama Administration issued new rules to change that, extending those basic standards to cover most people employed to care for elderly or disabled clients at home.
The new rules were scheduled to take effect on January 1, 2015, although the White House announced it would hold off on actually enforcing them, giving states more time to figure out how to shoulder the additional Medicaid costs. But now those rules have hit a fresh roadblock: A federal judge says they're against the law.
In a striking Monday decision (PDF), federal district judge Richard Leon accused the Department of Labor (DOL) of attempting "a wholesale arrogation of Congress' authority in this area!" (Yes, he used an exclamation point.) Leon also called the new rules "nothing short of yet another thinly-veiled effort to do through regulation what could not be done through legislation." Ruling in favor of several business groups that sued the DOL, Judge Leon vacated the portion of the rules requiring third-party home care companies to pay minimum wage and overtime to workers employed mainly for "fellowship and protection."
In an e-mailed statement, the DOL maintained its rulemaking was well within established precedents, declared that it "strongly disagrees with the district court's opinion," and noted it has sixty days to appeal. Parts of the law are still set to take effect; a spokesperson for the Paraprofessional Healthcare Institute, which supports the regulations, says the ruling's effect should be limited because most Medicaid-funded home care employees are providing more than "fellowship and protection" anyway.
In his decision partially blocking the rules, Judge Leon noted the plaintiffs' warning that the DOL approach "will have a destabilizing impact on the entire home care industry and will adversely affect access to home care services for millions of the elderly and infirm." As I reported in Bloomberg Businessweek in October, some congressional Republicans and disability rights groups have made a similar argument: That cash-strapped states, whose Medicaid budgets fund much of the nation's home care services, will reduce workers' hours in order to increase their pay. Other disability rights groups have joined labor activists in making the opposite argument: That with the demand for home care workers set to explode as baby boomers age, the only way to provide a stable and professional workforce is to make home care a decent job.
"Honoring the worker and paying them the wage they deserve is actually bringing more dignity to the person they're providing the work for," Nikki Brown-Booker, a leader of the pro-labor employer coalition Hand in Hand who herself relies on the work of six home care attendants, told me in October.  "It's basically saying that this work is real work, this is a real job, and these are real people that need real assistance."
Before it's here, it's on the Bloomberg Terminal.
LEARN MORE