Mayor Had a Popularity Problem Even Before Cop Killings, Poll Finds
A Quinnipiac Poll shows the mayor has had a problem selling his message.
By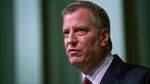 This has not been a good week for New York City Mayor Bill de Blasio. Police literally turned their backs on him after two officers were assassinated on Saturday, and he's had trouble winning public support given the now-obvious rift. But a statewide poll out Tuesday shows the mayor's unpopularity predates this.
Just one-third of the state's voters gave him a favorable rating in a Quinnipiac University poll released on Tuesday. New York Governor Andrew Cuomo, by contrast, had a favorability rating of 52 percent. That probably explains why voters picked Cuomo over de Blasio as the most influential New York Democrat, 74 to 16 percent.
Surveying for the poll began three days before the police shootings, and continued through Sunday.
"Mayor de Blasio is trying hard to be known as a national--even international--spokesman for political liberalism but, so far at least, it's not working with the neighbors," Maurice Carroll, assistant director of the Quinnipiac University Poll, said in a statement.
De Blasio fared better among city voters, with a 53 percent favorability rating. Yet those same voters picked Cuomo as the more influential New York Democrat, 67 to 25 percent. 
The survey of 1,293 New York State voters was conducted by telephone Dec. 17-21 and has a margin of error of plus or minus 2.7 percentage points.