Major League Baseball Might Miss a Closed-Off Cuba
By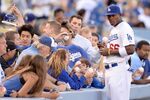 Less than two hours after President Obama announced last week that the United States "will begin to normalize relations" with Cuba, Major League Baseball released a statement saying that it is "closely monitoring" the White House's action. That response seemed a little slow, considering the speculation already raging over a "land rush" for Cuban talent. Despite a long-held ban on players leaving to play in the U.S., Cuba has provided a surge of talent to major league rosters in recent years. Imagine what could be, the New York Times suggested, "if teams could send representatives to Cuba and sign players, and then develop them."
That was a relatively sober analysis compared to the Biblical-style predictions to be found on Twitter:
There is little doubt that MLB clubs would sign additional Cuban players if they could. Whether they would be better off for it is a different matter. For all the privation that the Cuban pipeline causes for defectors, it carries advantages for U.S. teams.
In the Dominican Republic, some 500 miles away, where the market is open, MLB teams sign a combined 1,200 players per year, many of them just 16 years old. This wide net brings in about 10 percent of major league talent—143 active players last season, according to Baseball-Reference.com. While only a handful of Cuban players defect every year, they make up nearly 2 percent of major leaguers.
"The smugglers have gotten very efficient, in terms of identifying the very best players in Cuba," says Joe Kehoskie, a former agent for Cuban defectors who now consults with baseball teams. "Teams have been saved from themselves, in some respects, by having only good players defecting." The Dominican Republic provides players at a rate of about one per every 37,000 males in a nation of more than 10 million. Cuba, with a population just above 11 million, creates MLB players at a rate of about one per 218,000 males. On a cost basis, however, the math is much murkier.
Even with new rules limiting bonus pay for international players, many teams spend millions on Dominican and Venezuelan players who have slim chances of making it to the majors. And according to a 2011 story in Americas Quarterly, they spend "approximately $100 million per season operating some 40 year-round baseball academies in the Dominican Republic and Venezuela." The pressure to find talent first, according to Baseball America, has teams "aggressively" scouting 14-year-olds, with local "trainers and agents looking for the next great 12-year-old."
"It's part of the whole American psyche that you don't necessarily want an efficient system. You want to be able to get more and more and more," says Peter C. Bjarkman, a writer on Cuban baseball who leads annual tours there. "If we sign up everybody, then not one rock is not left unturned." This approach, says Bjarkman, overlooks the benefits of getting players who "come pretty much ready packaged" after years playing in international tournaments and the Cuban National League.
Cuban defectors have proved their readiness in spectacular fashion since pitcher Aroldis Chapman walked out of a Rotterdam hotel lobby in 2009 and into a $30 million contract with the Cincinnati Reds the following year. Chapman has since tallied 113 saves for the Reds. The best players in Cuba, seeing the riches and Chapman's success, have been willing to take huge risks to follow him.
Yoenis Céspedes spent two days marooned on a tiny island without water before signing for four years and $36 million with the Oakland Athletics in 2012. The same year, Yasiel Puig hiked "through crocodile-infested mangrove swamps" and was held captive near Cancun in Mexico before signing for seven years and $42 million with the Los Angeles Dodgers. José Abreu entrusted his life to a twin motor boat in the open ocean before signing a six-year, $68 million deal with the Chicago White Sox this year. All have since played in All-Star games.
"It's been a revelation that these guys are pretty much major league-ready. That may not have been [the thinking] when Cuban players started signing," Larry Baer, president of the San Francisco Giants, told USA Today in November. Talk of the defector market is reaching bubble status. "The inflation in the Cuban market in the past year or two has been incredible to watch," says Kehoskie, pointing to Rusney Castillo's $72.5 million contract with the Boston Red Sox, reached over the summer.
Under MLB rules, Cuban defectors who are at least 23 years old and have five years of professional experience are eligible to sign as unrestricted free agents so long as they show up somewhere outside the U.S. These rules, along the with the dangers and costs of leaving Cuba, have created the conditions for the elite—and only the elite—players of Cuban baseball to show up in such places as Mexico in their prime, triggering bidding wars by MLB teams for their services. "If you had a much wider swath of Cuban talent coming in, you would have some great players," says Bjarkman, "but the success rate would be nowhere like this because you wouldn't be just dealing with the cream of the crop."
Along with instant production, teams with winning bids get instant buzz. For U.S. fans, Cubans seem to arrive out of nowhere, backed by fuzzy clips on YouTube of heroic feats achieved back home.
"Teams get a commercial bang out of that that they don't get with the slow development of players," says Bjarkman. "You don't hear about the sensational guy coming out of the Dominican League already honed, already 25 years old." All this comes without teams spending a dime on scouts or academies in Cuba, or risking millions on less proven players. Cuba does the scouting and developing for them.
No one knows how a more open market for Cuban talent might work. MLB is eager to control costs by making the Dominican Republic and Venezuela parts of an international draft. Cuba could become a part, too, though the Cuban Baseball Federation would probably rather not see its talent further expropriated without compensation. The federation may—as FanGraphs noted—seek to set up a system similar to the one between MLB and Japan's Nippon Professional Baseball, whose players are made available on a periodic basis in exchange for multimillion-dollar fees. However it shakes out, MLB clubs should be careful what they wish for.
Before it's here, it's on the Bloomberg Terminal.
LEARN MORE