Life in the Bubble: What I Did On the President's Vacation
News–and actual presidential sightings–are hard to come by in Hawaii.
By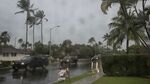 It rained Monday on the president's vacation. Big deal, right? Well, that's news in Hawaii.
And for those of us in the press pool covering his seventh consecutive vacation trip to this tropical paradise, it's a Very Big Deal. Any news here is hard to come by–and details about President Barack Obama's outings on his two-week break are closely held.
So when it rained for much of the afternoon, endangering Obama's third straight day of golf, those of us sitting at the press filing center at a lovely resort hotel on Waikiki Beach–far from the Obama family's luxury home rental in Kailua–anxiously had our eyes trained on our electronic devices for updates from the rotating pool of reporters tasked with following the president's movements.
He'd already worked out at the Marine Corps base in the morning. He'd gone back to the vacation house and it had been hours since any news of his day. The tension in the press corps was rising. Our editors wanted to know what was happening.
And then, mid-afternoon, our patience was rewarded with this missive from the White House: Bowling! The president was going back to the Kaneohe Bay Marine base and hitting the lanes. Big news indeed! Thank goodness.
A few more details trickled out as afternoon turned into early evening. Were the First Daughters joining their dad at the bowling alley? No, as it turns out. The list of names just included his long-suffering golf partners. (I must say this relieved me greatly in the parenting department. My sons were recently teenagers and there is nothing on earth I could have bribed them with to get them to go bowling with me when they were Sasha and Malia's ages.) What did he do after bowling? Went back to the vacation house.
And that's it. There are many other things you may be wondering: What was his score? Did he beat his friends Bobby Titcomb, Pete Souza, Greg Heard, and others? What's the etiquette of bowling with the world's most powerful man? Do you let him win because he's the president? How many strikes and spares? Was there a tough split he picked up? Did they share some fries and some beers? Was it one of those newfangled bowling joints with fancy lights and music videos or the old-fashioned kind?
Wish I could tell you. We don't get that kind of detail about his vacation.
Here's what we know that he the president has done since he and the First Family (with their two dogs in tow; one of them, don't ask me which as they look so similar, came and visited us in the press section of Air Force One ... so adorable!) arrived in Hawaii very late Friday: Workouts at the Marine Base (including Tuesday). Golf at the base. The aforementioned bowling. A visit to the beach with his family. Dinner Sunday night in Waikiki, at Morimoto's (of Iron Chef fame).
That's it. We don't know what he ate at Morimoto's or even the menu. The press pool dined at the nearby Outback Steakhouse while waiting.
Don't get me wrong, I don't begrudge the president his vacation. It has been a tough few months since his last break at Martha's Vineyard in August, what with Ebola, Michael Brown and Eric Garner, Islamic State, fighting with Congress and oh yes, the drubbing Democrats took in the midterms. He deserves privacy. And we don't want to bug the White House staff here any more than we need to–led by deputy press secretary Eric Schultz, they are very professional and respond quickly at all hours to questions about topics in the news (like the New York shootings over the weekend).
So I am loath to ask about his golf score, the kind of sushi he ordered, or whether he changed into a bowling shirt when he got to the alley.
Yet I really would like to know. And I bet you do, too.