It Was a Dark Day in North Korea for Online Dating: Opening Line
Laurence Arnold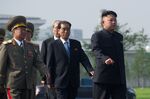 When the Internet went down in North Korea yesterday, life in one of the world's most plugged-in, socially conscious nations must have been utterly transformed.
After all, Kim Jong-Un's famously open society has at least 1,024 Internet protocol addresses, according to the New York Times. (The U.S. has billions, but whatever.) North Korea also has a single, state-controlled Internet provider, and those things tend to be efficient, fair and popular.
And while it's said that most of the nation's 24 million people have no access to the Internet, we're sure, as in any free and creative society, there are countless early adopters and tastemakers among North Korea's fashion-forward set who have secured the means to update their Pinterest boards hourly.
So to make sense of what must have been a turbulent day for North Korea's many Internet cafes, public libraries, think tanks, e-retailers and online dating sites, we offer this list of the Top 10 Things North Koreans Had to Live Without:
10) Shopping for Dennis Rodman action figures.
9) Getting online help with Photoshop.
8) Hacking (for fun) Amy Pascal's holiday gift list.
7) Hacking (for business) Amy Pascal's Outlook calendar.
6) Searching for friends in prison camps via Findr, North Korea's version of Tinder and Grindr.
5) Reading about gout at WebMD.com.
4) Sending "Dear Leader" e-cards.
3) Studying Kim Il Sung Revolutionary History online through Kim Il Sung University.
2) Overthinking their next haircut.
1) Trying to figure out "Serial."
***
Today's busy calendar of economic indicators starts with durable-goods orders, GDP and personal consumption at 8:30 a.m. EST, followed by the FHFA housing price index at 9 a.m., the University of Michigan consumer confidence index at 9:55 a.m., and, at 10 a.m., new-home sales, the Richmond Fed manufacturing index, personal income and personal spending.
Walgreen reports earnings before the market opens.
Family Dollar holds another shareholder meeting on the proposed takeover by Dollar Tree. The meeting could be brief.
A short time ago, the U.K. reported third-quarter growth of 0.7 percent, matching estimates. France saw growth of 0.3 percent.
***
- Greek Prime Minister Antonis Samaras failed, for a second time, to get lawmakers to back his nominee for president and avert snap general elections. - Russia says it got Facebook to block a page promoting a Russian opposition rally - Shale pioneer Harold Hamm will cut back on drilling due to low oil prices. - De Blasio hopes to heal rift with police. - U.S. labels life in North Korea a "living nightmare.' - Islamic State militants are enslaving and brutalizing Yezidi women and girls, a report says. - Pakistan to rev up executions to strike back at terrorists. - Defense lawyers fret about self-appointed supporters of Boston Marathon bombing suspect. - Rolling Stone enlists Columbia Journalism School to sort out University of Virginia rape story. - New York congressman who threatened to throw reporter from a balcony is expected to plead guilty today to tax evasion. - Chris Christie yells at Sony. - Cuba suggests Christie won't get his fugitive. - Muhammad Ali is ''vastly improved" after bout with pneumonia. - Joe Cocker goes "Up Where We Belong." - "Johnny Football" is down for the count. - Cincinnati Bengals clinch a spot in the NFL playoffs.
***
On Sunday, Team Opening Line headed to Westfield Montgomery Mall in Bethesda, Maryland, with two festively attired children, two "Dear Santa" letters and -- new this year -- a Santa Fast Pass, granting us, for a $4.95 "convenience charge," a priority spot in the line for Santa's lap.
After our photos with St. Nick ($35) and lunch at Noodles & Company ($25), the kids bought presents for Mom ($90, don't tell her) and for Dad (cost unknown). All in all, a good day for the family, and not a bad one for the mall.
Turns out, we're part of a trend. As Lindsey Rupp reports today, retailers "are relying more heavily on the jolly old elf to drive customers into stores, and they're using increasingly sophisticated tools to make him as enticing as possible."
These tools include "text-message alerts about their spot in line" and, upon request in some places, a black, Asian or sign-language Santa. Ten malls owned by Taubman Centers feature ice palaces modeled on the hit Disney movie "Frozen." Other malls have partnered with DreamWorks Animation to add characters from the "Shrek" film franchise to their Santa village.
The birthplace of retail Santa -- Macy's in New York's Herald Square -- still goes all-out, with a 13,000-square-foot Santaland, but now so do retailers including Wal-Mart and Bass Pro Shops.
"A gun range in Georgia even lets patrons take Santa pictures with a selection of firearms," Rupp writes.
The reindeer, we trust, are kept out of sight.
***
It feels ungrateful -- heretical even -- to spout anything but gratitude toward the Bill and Melinda Gates Foundation for its multibillion-dollar charitable campaign against scourges around the globe.
Just look at its list of "illustrative" (not comprehensive, mind you) grant commitments: $1.5 billion to expand childhood immunizations, $456 million for a malaria vaccine initiative, $355 million toward eradicating polio, $264 million to improve farming in Africa.
Let's just say that, by comparison, our year in charitable giving doesn't quite rate.
That's why today's story by Simeon Bennett, Francois Rihouay and Ougna Camara is so striking. By giving money to the fights against specific diseases, the Gates foundation and similar groups "are doing more damage than good," an adviser to the World Health Organization tells our colleagues.
The Ebola crisis brought this line of criticism into focus. While billions of dollars are spent to fight AIDS, or malaria, or polio, "(c)ritics say that more resources should go to general health infrastructure such as training for doctors and nurses, ensuring supply of medicines, or developing a system to detect outbreaks," Bennett, Rihouay and Camara report.
Chris Elias, president of the Gates Foundation's global development program, calls this "a false choice," since any investment in health helps strengthen basic systems.
The bona fides of those calling for a better way of doing things are hard to ignore. Maybe we can feel grateful for the world's most generous philanthropists while also hoping they remain open to constructive criticism.
***
A touching story that emerged from the field of municipal bankruptcy this year was the struggle by the Detroit Institute of Arts to avert a forced selloff of paintings and sculpture.
The perverse thought of a museum having to sell its masterpieces to rich individuals was enough to spur foundations, individuals and the State of Michigan to come up with an $800 million rescue. Among other things, it transferred control of the museum, long tied to Detroit and its uncertain finances, to an independent charitable trust.
Is there a rescuer out there for Zimbabwe's elephants?
"Zimbabwe is considering the sale of as many as 62 live elephants to China, France and the United Arab Emirates because Hwange National Park, the country's biggest game reserve, isn't receiving adequate state funding," Godfrey Marawanyika reports.
Selling elephants for $40,000 to $60,000 could help the park cover its $2.3 million in annual operating costs. Within the shrunken economy that followed President Robert Mugabe's seizure of white farmers' land starting in 2000, there's little money for roads and water, much less for parks.
"While African elephants are considered endangered, with about 470,000 left in the wild in 37 countries," Zimbabwe has more than it can handle, according to Marawanyika. So does the Hwange park, which has 43,000 elephants and capacity for 15,000, he writes. The park's elephants get water from man-made holes.
Prospective buyers from the UAE, China and France are seeking a total of 57 to 62 elephants, some of which could be sent to private zoos. There is concern for the elephants' health during travel, and for the size of the zoo enclosures that might become their new homes.
They're not portraits or sculptures. But might Africa's elephants be works of art worth preserving?
***
Those in the U.S. Northeast and mid-Atlantic dreaming of a White Christmas may have to settle for dry basements.
We'll be getting the precipitation but not the cold temperatures necessary for snow, Brian Sullivan tells us. The temperature in Boston could reach 60 degrees Fahrenheit on Christmas Day.
As for the wet stuff, "heavy rain from a storm system crossing into the Ohio Valley … will almost certainly cause a few travel problems," Sullivan writes. That includes flooded roads and possible air-traffic delays, just what everyone needs during one of the busiest travel periods of the year.
Somewhat-colder air in Midwest cities including Chicago and St. Louis means a greater possibility of at least a little snow there, Sullivan says.
Jason Samenow of the Washington Post's Capital Weather Gang has an even smaller list of White Christmas candidates. "The only major metropolitan area that may have snow is Minneapolis-St. Paul and, even there, it would be slushy and isn't guaranteed," he says.
As of yesterday, just 26 percent of the U.S. had snow cover, compared with an average of 38 percent, according to Samenow.
For just about anything else you might wonder about a White Christmas -- defined as at least one inch of snow on the ground on Christmas morning -- here's the website for you.
Before it's here, it's on the Bloomberg Terminal.
LEARN MORE