It's Almost Christmas. Is Anyone Still on the Internet?
For a short period over the Christmas holiday, people use the Internet less than usual. For most of the week, though, they spend more time online than usual
By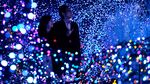 Offices everywhere are emptying as people head home for a few days of light dining and constructive political conversations with relatives. But is the Internet as much of a ghost town as your workplace over the holiday season? Nope. Internet usage is likely to be higher than usual for the rest of the week, according to Sandvine, a firm that tracks Internet traffic. The only exception: a few hours on Christmas Eve, when people have no choice but to put away devices and talk to one another.