Why Americans Will Overpay for Cuba's Vintage Cars
Easing relations between the U.S. and Cuba could come as a boon to collectors looking to own, even drive, pieces of Cuba's culture
Belinda Lanks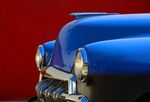 When Fidel Castro came to power in 1959, he made it illegal for anyone to import cars without government permission. The mandate arrested automotive history on the island, and curvaceous mid-century Chevys, Studebakers, and Buicks still rumble down Havana's Malecón, much as they did half a century ago. Now, with the easing of relations between the U.S. and Cuba, some of the nearly 60,000 vintage cars in Cuba could eventually make their way into collectors' hands stateside. 
Cuba loosened some trade restrictions on automobiles earlier this year, allowing new cars to be bought and sold on the island. Lifting the U.S. trade embargo on the island—a decision that must be made by Congress, not President Barack Obama—would let Cuba's classic automobiles return to the U.S. after so long. If that does happen, the buyers won't be traditional car collectors, who prize low mileage and automobiles in pristine condition. For one thing, Castro's restriction on auto imports stopped the flow of replacement parts, so while a Cadillac convertible in Cuba may look authentic at first blush, a closer look reveals both hundreds of thousands of miles on the odometer and a bevy of makeshift fixes, perhaps even (gasp!) a Peugeot diesel engine under the hood. That said, experts anticipate a niche market of buyers willing to pay a premium to own a piece of Cuban history.

"Most people would want them as a sort of art piece," says McKeel Hagerty, chief executive officer of car insurer Hagerty. Even immaculately restored examples of 1950s-era American cars aren't terribly valuable, Hagerty says, but interested buyers should expect to pay two or three times as much for the jerry-rigged Cuban examples. His company estimates that a top-of-the-line 1954 Chevrolet 210 Delray club coupe would fetch $20,000, while the Cuban version might command $40,000 to $60,000. Similarly, one could pay more than $60,000 for a 1955 Buick Century sedan re-imported from Cuba that would ordinarily be valued at $20,600.
While some Cuban car owners will undoubtedly jump at the chance to make quick cash by offloading their American behemoths, Hagerty doesn't expect a flood of cars to leave the island. "These cars are part of their culture," he says. "They are integral to the image of who they are, so it would be hard to imagine [the cars] all going away."

For diehard car collectors, the prospect of an open Cuba holds the intrigue of a rare find—a mothballed, broken-down beauty abandoned by an owner who lacked the financial means or ingenuity to fix it. "I'm of the belief that there is something over there to be found," says Rick Drewry, a collector car claims specialist at American Modern Insurance Group. "Some people are going to be on the hunt for those diamonds in the rough."
Those mythical diamonds in the rough won't be old Fords—or any other U.S.-made car—but the Mercedes, Ferraris, and Maseratis that raced in the Cuban Grand Prix. A photographer touring the island recently uncovered a gull-wing Mercedes-Benz 300 SL—examples of which fetch over $1 million at auction—rusting under a banana tree. Hagerty dismisses that discovery as a one-off. "Trust me," he says, "that is going to be the search. But best I can tell, most of the cars that raced there exited the country around the time of the revolution."