Coal Exporters See Price Drop Offset by Dollar: Chart of the Day
Alessandro Vitelli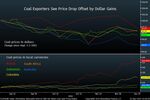 The world's largest coal exporters have been shielded from a drop in prices to five-year lows as a strengthening dollar has boosted earnings in local currencies.
The top panel in the CHART OF THE DAY shows the decline in dollar-priced coal contracts from the world's five largest exporters from Sept. 5 to Dec. 12, according to data from McCloskey Inc. The bottom panel shows the change in local currency terms, where Russia led gains with a 53 percent increase in the period.
"All producers must be seeing higher prices in local currencies, allowing them to continue producing," Diana Bacila, an analyst in Oslo at Nena AS, said by phone Dec. 19. "This should be allowing more producers to stay in the market."
Seaborne coal supply outweighed demand this year for the first time since at least 2010 and the surplus will more than triple in 2015, according to Deutsche Bank AG. Global demand growth will slow through 2019 as China diversifies its energy sources and regulations capping greenhouse gases shut coal-fired power plants in the U.S. and Europe, the International Energy Agency said this month.
Australian coal prices at Newcastle have fallen 26 percent this year to $62.75 a metric ton, the McCloskey data show. They dropped to $61.80 on Dec. 12, the lowest since April 2009.
Before it's here, it's on the Bloomberg Terminal.
LEARN MORE