Being on Vacation with Bill O'Reilly Must Really be a Drag
The Fox News host has again cut short his scheduled vacation.
By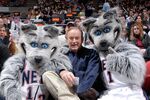 Some people, it seems, are constitutionally incapable of relaxing. For the second time in four months, Fox News host Bill O'Reilly has cut short his vacation to return to what he does best: vent about the current events most people try to leave behind while taking time off. 
On Tuesday, stand-in host Greg Gutfeld introduced "Bill O'Reilly, who was supposed to be off today. He could not stay silent."  
The target of O'Reilly's vacation-ending rage? New York Mayor Bill de Blasio.
"He cannot run this city. He's lost control of the police department and their respect," O'Reilly fumed. "They will never come back no matter what he says, because he sided with the protesters, that's what he did. And he associated with provocateurs and he has disgraced the office of mayor of New York City. He should resign."
O'Reilly, perhaps the single greatest inspiration for Stephen Colbert's character on the Colbert Report, has previously interrupted his regularly scheduled vacations in order to, as he put it Tuesday, "send a big message tonight."
Flash back to Aug. 20:  "I came back from vacation because I am furious, furious about how the shooting death of 18-year-old Michael Brown is being reported and how various people are reacting to it," O'Reilly explained. 
It could be, of course, that O'Reilly simply loves his job, and is happier working. Given that "The O'Reilly Factor" is Fox News' No. 1 rated show, that dynamic would certainly suit his employers. But there's also something to be said for entering a self-imposed news blackout and winding down for a couple of weeks, as the following clip, complete with includes stress-induced cursing, would seem to demonstrate.