Flight Delays Top 4,900 on Fog as Jets Brush on NYC Taxiway
Julie Johnsson and Ed Dufner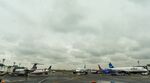 Fog and rain delayed thousands of pre-Christmas travelers at U.S. airline hubs, while scores of other passengers were inconvenienced when their jet clipped another plane at New York's LaGuardia Airport.
The LaGuardia incident didn't disrupt operations, and the U.S. Federal Aviation Administration is investigating why the aircraft brushed on a taxiway. A Denver-bound Southwest Airlines flight suffered winglet damage in the collision with a recently arrived American Airlines jet. No one was injured.
The events punctuated the last full travel day before traffic starts to taper on Christmas Eve, one of the lightest periods in the Dec. 17-Jan. 4 holiday season tracked by the Airlines for America trade group. The Washington-based A4A predicts 45 million people will fly during the period.
U.S. delays exceeded 4,900 by 6:30 p.m. New York time, according to industry data tracker FlightAware, with Houston's Bush Intercontinental logging the most tardy trips. Dallas-Fort Worth, Philadelphia, and LaGuardia also were among the hub airports crimped by low visibility.
Damage to wingtips and tails is a common outcome when planes touch while taxiing, and that was the case in the LaGuardia episode. The Southwest plane was carrying 148 people including crew and the American flight carried 149 total.
Stabilizer, Winglet
American Flight 1104 was rolling to its gate after touching down from Dallas when its left horizontal stabilizer struck the winglet of the departing Southwest jet, according to e-mailed statements from the carriers and U.S. officials. The two Boeing Co. 737 jets brushed at 10:49 a.m. New York time on the taxiway running around LaGuardia's main terminals.
There was no immediate indication that weather was involved, and visibility at the time was at about 2 miles in mist, according to weather data compiled by FlightAware. An overcast layer at 400 feet may have complicated landings, but not ground movements.
The Southwest plane was taken out of service, and American was assessing its aircraft, according to the companies' statements.
At the end of the day, most people will make it to their final destination. There were only 500 cancellations reported by FlightAware, compared with some peak days last winter at 10 or more times that many. FlightAware showed 111 cancellations so far for Christmas Eve.
Mild weather in much of the U.S. gave fliers a break from the frigid conditions typically associated with late-December travel in the northern parts of the country.
LaGuardia was at 42 degrees Fahrenheit (7 degrees Celsius) at about 3 p.m. New York time, and the National Weather Service forecast that tomorrow's high will top out near 57 degrees in New York's Central Park.
Before it's here, it's on the Bloomberg Terminal.
LEARN MORE