The Year in Glenn Beck Apologies
The radio host managed to reinvent himself as a perpetually sorry ex-shock jock.
By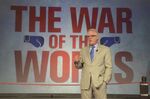 President Obama's second midterm year represented, arguably, the nadir of his presidency. Allies deserted him. Red state Democrats pretended not to know him and they lost anyway, buried under ads that reported how often they voted with Obama. Not one but two former Secretaries of Defense re-emerged from their studies with memoirs that made the president look feckless.