Ukraine Lawmakers Annul Non-Aligned Status in NATO Move
Kateryna Choursina, Henry Meyer and Mark Raczkiewycz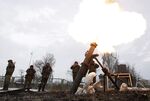 Ukraine's parliament backed a proposal to cancel the country's non-aligned status, a decision that Russia denounced as a dangerous step toward seeking membership of NATO.
The legislation put forward by President Petro Poroshenko was supported today by 303 of 357 lawmakers in the chamber, hours after the announcement of fresh talks to try to end the conflict with pro-Russian rebels in eastern Ukraine. The bill will help Ukraine as it seeks to achieve "all criteria of membership" for the North Atlantic Treaty Organization, Foreign Minister Pavlo Klimkin told parliament.
The vote in Ukraine is "counter-productive" and will increase confrontation, Russian Foreign Minister Sergei Lavrov told reporters in Moscow today. It will have "extremely negative consequences" and amounts to an "application to join NATO," Russian Prime Minister Dmitry Medvedev wrote on Facebook last night.
The decision follows an announcement that the Ukraine Contact Group will meet Dec. 24 and Dec. 26 in Minsk, Belarus, after a phone call last night between Poroshenko, Russian President Vladimir Putin, German Chancellor Angela Merkel and French President Francois Hollande. A two-week truce has tempered the bloodshed in a conflict that has killed more than 4,700 people since April in fighting between government forces and separatists in Ukraine's Donetsk and Luhansk regions.
NATO 'Choice'
Ending Ukraine's non-aligned status "is the choice of the Ukrainian people," Klimkin wrote on Twitter after the vote. "This is the choice for freedom and security."
Poroshenko said in November that Ukraine would hold a referendum on seeking NATO membership at the end of this decade after it had completed "real" policy changes. Germany and France have signaled that they are opposed to Ukraine joining the 28-member alliance because of concerns that this will inflame tensions with Russia.
"NATO should be open to new members," Polish Prime Minister Ewa Kopacz told reporters in Warsaw today. "It's up to Ukraine to decide whether they want to join."
The contact group, which has representatives of Ukraine, Russia and the Organization for Security and Cooperation in Europe, last met in September to try to resolve the conflict in eastern Ukraine. The four leaders emphasized the need to fulfill agreements made at those talks, including "withdrawal of troops and heavy armament, as well as immediate liberation" of all prisoners, Poroshenko said in a statement on his website.
'Provocative' Attacks
"The main task at the moment is to stop the violence," Alexei Panin, deputy director of the Center for Political Information, a Moscow-based research group, said by phone today. The confrontation may evolve into a frozen conflict that could encourage the European Union to lift sanctions against Russia by mid-2015, though U.S. measures imposed over the crisis will remain, he said.
Two servicemen were wounded in the past 24 hours, Ukrainian military spokesman Andriy Lysenko told reporters in Kiev today.
Militants fired on Ukrainian government positions nine times overnight with mortars, rifles and grenades in "purely provocative" attacks, Leonid Matyukhin, spokesman for Ukraine's National Security and Defense Council, said in a video statement on Facebook.
'Fighting Country'
Defense spending is Ukraine's top priority, Finance Minister Natalie Jaresko told parliament today as she presented the government's draft 2015 budget for what she called the "robbed and fighting country." Ukraine is in its most difficult situation since independence, she said.
Lawmakers plan to approve a budget by the end of this week as Ukraine seeks to unlock the next tranche of a $17 billion bailout led by the International Monetary Fund. The economy could shrink by 4.3 percent next year, according to the draft budget published on the parliament's website.
The country needs to expand its bailout by about $15 billion, and failure to alter the situation may make default "inevitable," Standard & Poor's said Dec. 19, when it cut Ukraine's credit rating deeper into junk status.
Moody's Investors Service said in its annual Ukraine Credit Analysis yesterday that the "risk of default is rising" and Ukraine may need as much as $20 billion over the next 12 months beyond what is provided by existing programs. It said the country's economy will shrink by 7.5 percent this year and may contract by 6 percent in 2015.
Recession Risk
The conflict has hammered the economies of both Ukraine and Russia. There is a 93 percent risk of Russia sliding into recession in the next 12 months, up from 75 percent a month ago, according to the median estimate of 20 economists polled by Bloomberg, the highest since the first such survey more than two years ago.
The world's biggest energy exporter has been hit hard by a decline in oil prices to about $61 a barrel from more than $115 in June. Russia is entering a "full-fledged economic crisis," that could cause the economy to shrink 4 percent in 2015, former Russian Finance Minister Alexei Kudrin told reporters in Moscow yesterday.
The U.S. and the EU imposed sanctions after Russia annexed Crimea from Ukraine in March. They extended the penalties after accusing Russia of aiding the rebels in eastern Ukraine, a charge Russia rejects.
Medvedev criticized the U.S. for legislation signed by President Barack Obama last week that authorizes further sanctions, saying in a Facebook posting that it "will poison relations for decades."
Russia's ruble, which plunged to record lows of 80 a dollar last week, rose 0.6 percent today to 55.46 against the greenback at 5:30 p.m. in Moscow, buoyed by companies exchanging foreign currencies to pay taxes at the year-end. It narrowed its loss for this year to about 41 percent against the dollar, the second-worst performance after the hryvnia of more than 170 currencies tracked by Bloomberg.
Before it's here, it's on the Bloomberg Terminal.
LEARN MORE