Groundhog Day: Giuliani vs. Sharpton on Who's to Blame for Racial Tensions
But this time, President Barack Obama is in the middle.
By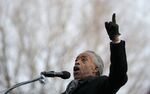 It seems as if it's 1991 all over again. Then, as now, an act of violence in New York ends in death and unleashes a wave of anger. In the public arena, two leaders, both supremely comfortable in the midst of a media battle, both with conflicted reputations dating back decades, are firing freely in what suddenly seems a bitterly divided city.