Four Years Later: The Lessons of Ditching 'Don't Ask, Don't Tell'
The military is doing fine with openly gay soldiers in its ranks, although advocates say there is more work to do.
Annie Linskey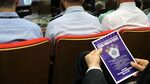 Four years ago Monday, President Barack Obama freaked out some of his military brass by signing a law repealing the Clinton-era "don't ask, don't tell" policy.  The edict had kept an estimated 65,000 gay and lesbian troops locked in the closet, based on the belief that open gayness would disrupt the morale of the armed forces and affect their ability to protect the country.