DirecTV's Spanish Streaming Service Is About More Than Telenovelas
DirecTV wouldn't be the first company to build a niche streaming service to test the waters for its broader ambitions
By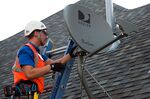 DirecTV is launching a Spanish-language streaming service in the U.S., allowing people to pay $7.99 a month for online access to movies, television shows, and sports in Spanish, even if they don't pay for the company's satellite-TV service. DirecTV isn't a complete stranger to online video—its DirecTV Everywhere platform lets subscribers watch some content on mobile devices and PCs—but the streaming service hints at the potential for online television products to come.
For DirecTV, a major attraction of developing the Spanish-language service, which it calls Yaveo, is to begin building the skills the company will need to get into the broader Internet television business. "The technology is scalable and could be leveraged on other initiatives down the road," Chief Executive Officer Michael White told investors last month.
DirecTV wouldn't be the first company to offer a streaming service that targets a niche population while also serving as training wheels for a wider launch. For several years, Dish Network, DirecTV's main competitor in the satellite-TV market, has run Dish World, which features programming from places such as India, China, Brazil, and the Arab world. The company has said it will introduce a streaming service featuring content from ESPN, Disney, and other popular channels by the end of this year. Before HBO announced it would begin selling online service to people without cable subscriptions in the U.S., the company tested a similar service in Scandinavia.
Starting with a niche service makes sense, in part because mainstream content companies have been suspicious of Internet television. Companies like Google and Intel saw their own Internet television ambitions fall flat because they couldn't secure rights to the content their prospective consumers would want. Smaller, more targeted offerings allow companies to build a plan around the shows they can gain access to. A smaller service can also serve as a testing ground to learn how to manage things such as large amounts of Internet traffic and new customer service issues. There are aspects of running a streaming service that will be far outside a TV distributor's traditional competency, and it helps to learn the trade while the stakes are relatively low.
DirecTV hasn't said much about its broader Internet television ambitions. It's currently awaiting approval from the Federal Communications Commission to merge with AT&T, a transaction that could significantly change the economics and strategy of the company. But it's fair to say that DirecTV hasn't chosen to create a Spanish-language service just because it thinks there's money to be made in telenovelas.